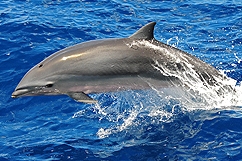 There is nothing more magical than watching the marine animals in their natural habitat! Guadeloupe's cetaceans await you, you can see sperm whales and spotted dolphins all year, as well as other species. The main attractions are the humpback whales that come to the Guadeloupian waters to breed and stay with their children between December and May. Departures are guaranteed on Wednesdays and Saturdays from Deshaies. Watching gear is provided.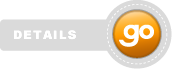 Activity :

Watching the cetaceans

Location :

Deshaies

Adult price :

50€

Child price :

25€

Wednesday, Saturday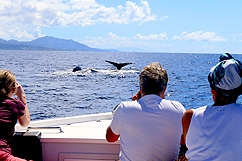 Enter Manolo's world and discover "la côte sous le vent"'s marine environment at Bouillante. Manolo has taken part in censuses and scientific research of cetaceans in Guadeloupe since he was very young. He will share the knowledge he has acquired about the cetaceans with you and will allow you to watch these splendid mammals while respecting the natural environment.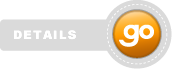 Activity :

Watching the cetaceans

Location :

Bouillante

Adult price :

60€

Child price :

40€

Every days