Depart from Pointe à Pitre and get to Marie-Galante in 45 minutes, every day of the week except on thursday. Embark on this speed, 360-passenger ship that meets international safety standards (ISM certification – International Safety Management) for a low fee. You will comfortably get to Marie-Galante, either sat down in the air-conditioned room, or sat on the chairs outside on the upper deck.
Key points
---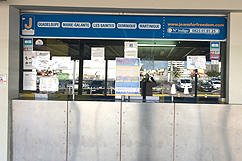 The company's experience (25 years, over 14 million passengers)
ISM certification (International Safety Management)
Regular connection twice a week
Comfort (new, ergonomic and adjustable seats)
Air-conditioned cabin
Open upper deck
Flat screens, snacking space, beverage dispensers, child space with exclusive video circuit.
Activity details
---
Go on a round trip from Pointe à Pitre to Marie-Galante on a fast ship every day of the week to visit the island of 100 windmills. Discover its charming villages, its wonderful beaches, and of course, all of the activity surrounding sugar canes that controls the island's pace. Go to one of the island's many distilleries to taste the best West Indian agricultural rum. Meet up at the Bergevin ferry terminal in Pointe à Pitre from 7:30 to 7:45 for boarding. Departure at 8:00.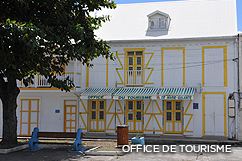 After sailing for about 45 minutes, you will arrive at Grand-Bourg, on Marie-Galante. The arrival is planned for 9:00. We advise you to go to the tourist office near the pier to organize your day, you will find all of the necessary documents to organize a great day discovering the premises. You will also find car, 4x4, and scooter rental companies near the pier.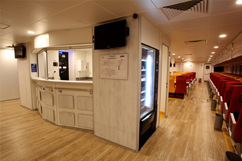 You have 7 hours to visit the Murat just beyond the village and then taste rum in one of the island's 3 distilleries (Père Labat, Bielle, or Bellevue) and loll on one of the island's most beautiful beaches. We recommend the Anse Canot, the Anse de May, or the wonderful La Feuillère beach in Capesterre, on Marie Galante in particular. The ferry is planned to leave at 16:00. We recommend that you come back to the landing spot from the morning at 15:45 at the latest to board and leave at 16:00.
Included
---
Round trip to Marie-galante (Grand-Bourg)
What to bring
---
Proof of identity for boarding
Hat, cap
Sunscreen
Camera
Shades
Fins, mask, and snorkel
Shoes or espadrilles to visit the island
Additional information
---
You must have proof of identity to board on the boat (Valid identity card or passport)..
Map and Schedule
---
Crossings
Bergevin ferry terminal in Pointe à Pitre: Meet up at 7:30 (7:45 at the latest). Departure at 8:00.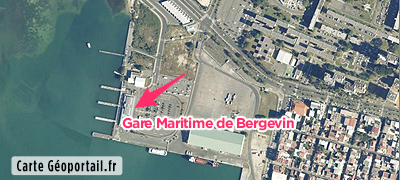 Schedule
(two-way trip)
Monday 8:00 - 16:00
tuesday 8:00 - 16:00
Wednesday 8:00 - 16:00
Thursday 8:00 - 16:00
Friday 8:00 - 16:00
Saturday 8:00 - 16:00
Sunday 8:00 - 16:00
Boooking
---