Manolo has taken part in censuses and scientific research of cetaceans in Guadeloupe since he was very young. He will share the knowledge he has acquired about these protected species with you and will allow you to watch these splendid mammals while respecting the natural environment.
Key points
---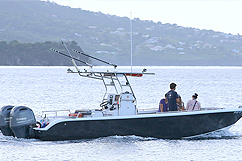 Trip supervised by an association that specializes in the study, census, and protection of sea turtles and cetaceans, and that is heavily involved in the knowledge and preservation of the marine environment in Guadeloupe since 1992, and supervises whale-based ecotourism (charter 2002 Guadeloupe)
Information on the threats and issues with conservation, the studies and actions taken for preservation
Acoustics (hydrophones on board)
Approach techniques
Evaluation and reduction of the impacts
Educational tools
New, 10-meter-long boat that is approved to transport passengers (NUC) and has latest generation engines
Small group of up to 10 people per excursion
Activity details
---
During this 3-hour-long cruise, Manolo, passionate and in love with the Caribbean sea life, will give you all of the information about the 24 cetacean species identified in Guadeloupean water by the Evasion Tropicale association, as well as the sea turtles, birds, pelagic fishes, and the marine environment that he has gotten to know for 24 years now. His knowledge of the species and their behavior allows him to approach them in the best way depending on the sea state, so the passengers can be as comfortable as possible.

Many species can be seen: the sperm whale, the humpback whale (during their migration period between December and May), as well as many small cetacean species, such as the pantropical spotted dolphin, Fraser's dolphin, the large dolphin, and the pygmy killer whale, the short-finned tropical whale, and the different species of bottlenose whales…
The boat, a locally-made "Bessarion" is very well-suited to the research of cetaceans and has the smallest of impacts on the environment with its latest generation engines.
Included
---
Drinks and snacks (fruit)
Windbreaker.
What to bring
---
Sun protection (light clothes, hat or cap, shades)
Camera
Additional information
---
Open to everyone
Confirmation of the weather the day before at 18:00
Children allowed from the age of 2
Information also transmitted in English
Accepted payment methods: cash, checks, and ANCV holiday vouchers
Map and Schedule
---
The rendezvous is generally between 7:00 and 8:00 (maybe in the afternoon if the morning is full)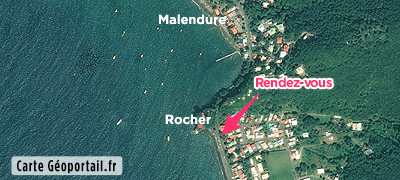 Schedule
Monday

7:30 - 16:00

Tuesday

7:30 - 16:00

Wednesday

7:30 - 16:00

Thursday

7:30 - 16:00

Friday

7:30 - 16:00

Saturday

7:30 - 16:00

Sunday

7:30 - 16:00
Booking
---