Regular connection to Les Saintes on board this superb, comfortable, 193-seat ferry. An impeccable service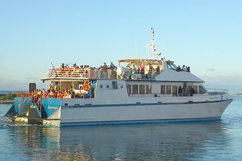 in French or in English to welcome a local or international clientele.The Iguana has everything to seduce people who want to get to Marie-Galante safely, with a length of 27 meters and capacity of 193 passengers, 60 of whom can go on the solarium on the upper deck.
Key points
---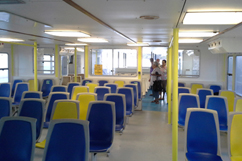 Welcoming and bilingual (English-speaking) crew
Comfortable and safe navigation
Solarium on the upper deck
Refurbished passenger room
Activity details
---
Round trip Saint-François - Les Saintes, free activities.
Meet up at the Saint-François ferry terminal (the Iguana Beach's counter) at 6:20 to depart at 7:00.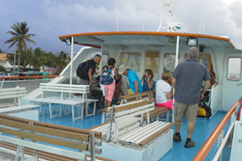 After sailing for about 50 minutes, you will get to Saint-Louis, on Marie-Galante. You will then set off to Les Saintes and the charming town of Terre de Haut 15 minutes later. Arrival at Les Saintes planned for 8:30. Guides and Taxis will welcome you in Les Saintes, but you can also choose to hire a scooter or an electric cart.
You have 6 hours and 45 minutes to go shopping, visit the fort and the island's wonderful beaches at your convenience. Take advantage of the opportunity to have a meal on the sea shore, facing the beautiful bay, as well.
Meet up at the Terre de Haut dock at 15:00 – Board at 15:15 – Departure at 15:30.
Included
---
Round trip to Les Saintes
What to bring
---
Sun protection
Camera
Shades
Mask and snorkel
Shoes or espadrilles to visit the island
Additional information
---
WARNING! No open tickets on the Iguana Beach. Round-trip ticket only valid for that day.
Saint-François ferry terminal: meet up at 6:20 to pay for the service and proceed to boarding at 6:45 – Departure at 7:00
Accepted payment methods: cash, credit card, holiday voucher.
Map and Schedule
---
Crossing every day (except on Mondays until May) - Yearly holidays from September 5 to October 15.
The Iguana Beach is berthed on the dock of the Saint-François ferry terminal, near the fishing harbor and the church, opposite the Comptoirs de Saint-François mall.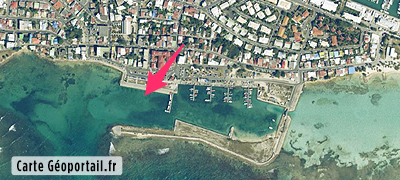 Schedule
(Round trip)
Monday 7:00 - 15:30
Tuesday 7:00 - 15:30
Wednesday 7:00 - 15:30
Thursday 7:00 - 15:30
Friday 7:00 - 15:30
Saturday 7:00 - 15:30
Sunday 7:00 - 15:30
Booking
---