Board the "Planète bleue" motor catamaran on Wednesdays and Saturdays with your eco whale guide for a unique experience of meeting the cetaceans. More than 17 species can be seen in Guadeloupe, mainly the sperm whales and the spotted dolphins which can be seen all year. The main attractions are the humpback whales between December and May, which can be seen with their children in our lovely waters. Special equipment will be provided.
Key points
---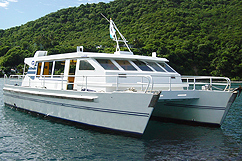 Eco whale guide who specializes in cetacean watching
Educational, fun, and cultural information
The crew's 10 years of experience
The crew's heavy ecological involvement (ONF, National park, OMAG, DIREN, BREACH…)
Professionalism and safety
Specific listening and watching equipment
Spacious and comfortable boat with a big, shaded cabin
Enthusiastic atmosphere
Bilingual, English-speaking guide
Price
Activity details
---
Get on the "Planète bleue" catamaran from Deshaies on Wednesdays and Saturdays for 5 amazing hours of meeting nature and its aquatic riches.

The "Planète bleue" catamaran, which can comfortably hold up to 30 passengers (for a space that was planned for 40), offers exceptional comfort that is appreciated by its passengers with its big, shaded cabin, its storage racks for personal belongings, its toilets, its passageway, and its big, outside beach to admire the landscapes and the cetaceans. It also has a fresh water dispenser and a ladder that goes into the water.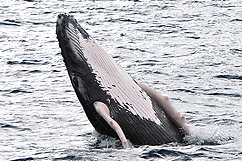 Your passionate, bilingual eco whale guide will welcome you and inform you about the different species that you will meet in an educational, fun, and cultural way for the whole trip. In principle, you can see up to 17 different cetacean species in Guadeloupe (humpback whale, sperm whale, pantropical spotted dolphin, Fraser's dolphin, rough-toothed dolphin, Gervais' beaked whale, Cuvier's beaked whale, killer whales, false killer whales, pygmy killer whale, pilot whales, melon-head whales), however, we mainly see sperm whales and spotted dolphins all year round. From December to May, the attractions that everyone in Guadeloupe enjoys are the humpback whales that come to mate in our crystalline waters and grow with their children, offering children and adults alike an absolutely breathtaking spectacle.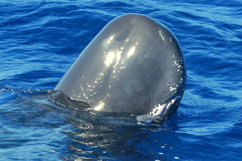 The trip goes as follows: we start with finding the cetaceans with a hydrophone and binoculars, then you will get explanations from the eco whale guide. Obviously, you must respect the whale ecotourism charter implemented by AGOA (Committee for the management of the marine animal sanctuary in Guadeloupe). Different educational tools are provided, such as a hydrophone for the acoustic tracking of the cetaceans,, headphones to hear the sounds emitted by the cetaceans on board the boat, and leaflets with illustrations of the cetaceans, and educational boards on the different species of our region. You will also be able to listen to the whale sounds with a sound system. For your comfort, drinks will be offered to you, and children will get snacks (water, juice, and planteur served on board). Our success rate on our watching days is 95%. If you don't see anything, we will offer you another trip on a different date, or we will refund half of the service price..
Included
---
Transport
Guided cetacean watching
Educational gear and watching techniques
Drinks and snack for the children
What to bring
---
Sun protection
Spare clothes
Shades
Sunscreen (preferably organic)
Camera
Hat or cap
Raincoat in case of rain or sea sprays
Additional information
---
Accepted payment methods: checks, holiday vouchers, cash.
Departure if the swell is 2m or below.
Map and Schedule
---
Meet up at the Deshaies harbor at 7:45. Depart at 8:00. Return between 12:30 and 13:30.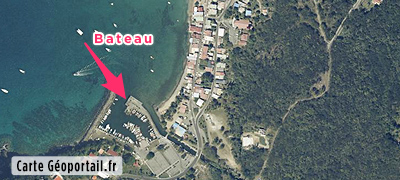 Schedule
Tuesday

8:15 - 13:45

Thursday

8:15 - 13:45

Saturday

8:15 - 13:45
Booking
---