Get to Les Saintes from Pointe à Pitre in 45 minutes. For a low price, get on this speed, 360-passenger ferry that meets international safety standards (ISM certification – International Safety Management). You will comfortably get to Les Saintes, either sat down in the air-conditioned room, or sat on the chairs outside on the upper deck.
Key points
---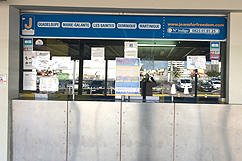 The crew's experience (25 years, over 14 million passengers)
ISM certification (International Safety Management)
Regular connection twice a week
Comfort (new, ergonomic and adjustable seats)
Air-conditioned cabin
Open upper deck
Flat screens, snacking space, beverage dispensers, child space with exclusive video circuit.
Activity details
---
Go on a round trip from Pointe à Pitre to Les Saintes in a fast ferry to do free activities at Terre de Haut. Discover its charming town, its magnificent beaches, and its great sights. Meet up at the Pointe à Pitre ferry terminal (Express des îles counter) from 7:30, 7:45 at the latest, to proceed to boarding. Departure at 8:00.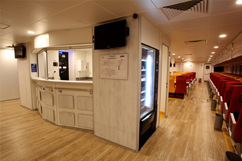 After about 45 minutes of sailing, you will get to Terre de Haut, on the Saintes. Arrival planned for 9:00. To organize your day, we advise you to go to the Tourist Office in the square that the wharf is in, you will find all of the documents needed to organize a wonderful day full of discovery. You can also find guides, taxis, scooters, and electric carts near the church, just a few meters away from the office. You have 7 hours to visit the Fort Napoléon (renowned museum) that overlooks the town with a breathtaking view of the bay, to loll or go snorkeling on the island's wonderful beaches, and to go shopping in the town's lovely little shops at the end of the day. There are plenty of bakeries, convenience stores, and restaurants on the road for you to organize your restoration. Don't lose track of time… it is almost time to get back on the boat, meet up at 15:45 at the latest, at the same place that you were at in the morning, to board and depart at 16:00.
Included
---
Round trip to Les Saintes
What to bring
---
Proof of identity for boarding
Hat, cap
Sun protection
Camera
Shades
Fins, mask, and snorkel
Shoes or espadrilles to visit the island
Additional information
---
Each passenger must have proof of identity to board on the boat.
Map and Schedule
---
Crossing several days per week depending on the season
The express des îles is berthed on the dock of the Bergevin ferry terminal in Pointe-à-Pitre: meet up at 7:30 (7:45 at the latest) to proceed to boarding – Departure at 8:00.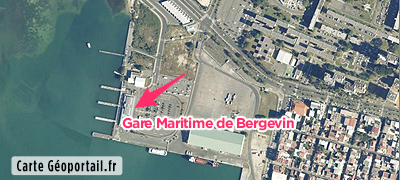 Schedule
(Round trip)
Monday 8:00 - 16:00 (summer)
Tuesday 8:00 - 16:00 (year and summer)
Thursday 8:00 - 16:00 (summer)
Saturday 8:00 - 16:00 (year)
Boooking
---