Saint-François has modern and diverse touristic infrastructure, including a golf course, an aerodrome, a casino, and a marina from which many cruise ships depart to the neighboring islands: La Désirade, Petite Terre, and Marie-Galante. The charm of this fishing village is undoubtedly one of St-François' biggest attractions.
Main attractions
---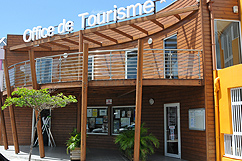 Nautical resort
Beaches
Golf course
Casino
Aérodrome
Markets
Fishing harbor
Saint-François activity details
---
Saint-François is not short of attractions for a visitor who would like a wide choice of nautical activities and trips. From the lagoon, the watersports center welcomes sailing, windsurfing, and kayak lovers of all ages. Other service providers are available to go diving and do sliding sports on the lagoon (kayaking, kitesurfing, windsurfing, hobie car, jet ski…). In terms of visits, la Pointe des châteaux has some of the most beautiful beaches in Guadeloupe. It is recommended that you fly over this region with a service provider from the Saint-François aerodrome. Just a few kilometers away from Saint-François, you can also go and discover the petite terre nature reserve, which is accessible with charter boats from the Saint-François marina.
Local entertainment
---
Pombiray festival (End of January)
Carnival and nocturnal parade (February)
Sailors' festival (August 15)
Saint-François festival (Beginning of October)
Beaches
---
Anse des rochers
Anse à la barque
Raisins clairs
Plage des pies
Anse champagne
Anse Loquet
Anse Kahouanne
Petite anse Kahouane
Anse des Châteaux
Anse des Salines
Anse à Plumes
Anse à la gourde
Baie Sainte-Marie
Baie des Rouleaux
Baie Olive
Anse à L'eau
Information additionnelle
---
Saint-François is one of the main tourist destinations inGuadeloupe, and golf lovers should favor this place, as it is where you will find the only golf course in Guadeloupe.