Located in the North of Grande-Terre, Petit-Canal is one of the only communes in Guadeloupe, along with Anse-Bertrand, to be bordered by the Atlantic Ocean to the East and the Caribbean Sea to the West. Marked by history, Petit Canal shows its bruises through monuments and historic locations and is not devoid of natural treasures.
Main attractions
---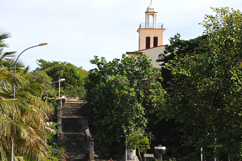 Glass-bottomed boat trip
Visit of the Mangrove
Ilet Blanc-Rousseau
Ilet aux Oiseaux
The canal des Rotours
La Pointe des Sables
La vie d'antan Museum
The Marches des Esclaves (Slave markets)
The wharf
The Maison de l'Environnement
Landscaped park
The Beautiran trail
Petit Canal activity details
---
This place is marked by history, it was on these shores that the slaves were offloaded from Africa during the darkest times in Guadeloupe's history. A set of 49 cut stone steps, built by the slaves takes you up to the church's forecourt, a sales location. The old wharf is now a fishing harbor.
The maison de l'environnement offers trips in the mangrove. You will discover more than 300 species of Grande-Terre's indigenous plants in a remarkable landscaped park, 50 of which are used for medicinal purposes. You will also be able to go back in time in an art and popular traditions museum.
Local entertainment
---
Petit Canal festival - Saint Philipp/Saint Jacques - (May 3))
Beaches
Additional information
---
Discover the mangrove, the lagoon, the coral reef, and the Grand-Cul-De-Sac-Marin's islets for a day or half-day on a glass-bottomed boat, with fins, mask, and snorkel provided. The activity will be supervised by a diving instructor and biologist.