Morne-À-l'Eau is a small commune in Grande-Terre on the crossroads. Connection between the North and South of Grande-Terre, and it is on the Basse-Terre road. It is in the heart of deep Guadeloupe and has an unconventional cemetery that is a real local attraction, as well as exceptional natural locations. In Morne-à-l'Eau, which is in a constant state of change, you are at the heart of the country.
Main attractions
---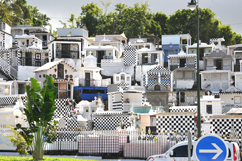 Unconventional cemetery
Discovery of the mangrove
Discovery of the Grand-Cul-De-Sac-Marin reserve
Kayaking
Sea bikes
Hiking
Caves and windmills
Les grands fonds
Cart ride
Pitt à coq museum
Morne à l'Eau activity details
---
Swarmed with people from the early hours of the day, Morne-A-l'Eau will take you to the heart of local life. When you go through this small town, you will admire the "domino" or "damier" cemetery, black and white, cascading on the center of the town. It is one of Guadeloupe's attractions.
Morne-A-l'Eau is the capital of the crab. You can discover the magic of the mangrove on sea bikes or kayaks, a great location that is visited by crab fishermen. The Guadeloupian people make delicious and flavorsome dishes from these crabs. The canal des Rotours is a starting point for the amazing Grand-Cul-De-Sac-Marin reserve. Wildlife, plants, and islets await!
In Vieux-Bourg, a lovely body of water, you can choose between many water and nautical activities that are peaceful and pleasant. Just nearby, the Grands-Fonds, formerly a refuge for the Blancs Matignons, offer a breathtaking sight of unfathomable pits and ravines, that is how dense the nature is. You will be able discover the terroir on an ox-cart while listening to the stories told with passion.
Local entertainment
---
Mas bo'ko'ka cultural day (February)
Crab festival in Morne à l'Eau (End of March – Beginning of April))
Morne-à-l'Eau festival - Saint André - (End of November)
Beaches
Additional information
---
An unconventional cemetery and original activities at the heart of a popular and authentic city.