Formerly the capital of Guadeloupe, Le Moule is one of the oldest communes of the archipelago. Opposite the Atlantic Ocean, its boulevard on the sea front is exceptional. The imposing, translucid ocean waves delight the most disciplined surfers and offer a wonderful sight that you must see.
Main attractions
---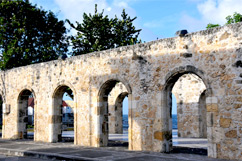 Surfing spots
Beaches
The Autre Bord watersports center
Shops
Baie Side mall
Markets
Sugar factorye
Rum distillery
Museum
Water park
La porte d'Enfer
Maison Zevallos (Gustave Eiffel)
Le Moule activity details
---
Le Moule has always been one of the island's main industrial and commercial hubs. There are many places to go and visit, such as a renowned sugar factory and a world-famous rum distillery, as well as a very lively town center which has many picturesque shops that are open on weekends and holidays. Le Moule also offers many sporting activities. On the sea front, surfers who would like to go against the raging waves are welcome. On the plage de l'Autre Bord, you can go canoeing for a trip on the sea or on the river; you can also go to the "Antoine Chérubin" water park. Paragliding, aeromodelling, slides, tennis masters. You can discover the Audoin river on a pedal boat or canoe from the Autre Bord watersports center.
Local entertainment
---
Les bœufs tirants (from April to December)
Cockfights (from November to July)
Cinema (from October to mid-August)
Le Moule traditional music festival (August)
Le Moule festival (June 24 - St. Jean Baptiste)
Carnival - Exhibition de Mass (February)
Beaches
---
Plage de l'autre bord
Plage de la baie
Plage des alizés
Plage des dauphins
Additional information
---
The Autre-Bord water park is located next to the beach, in a lovely location which has high-quality leisure equipment, including 5 lit tennis courts, 1 beach football field, a beach volleyball ground with 9 lit fields, 1 fun and sporty pool complex (Robert Geoffroy) which has two pools (25m x 15m pool and 10m x 9m), a 7.40-meter-high and 57-meter-long toboggan. There is also an athletes' center located 50 meters away from the beach, and a very shaded picnic area.
There a number of activities that you can choose from in the leisure park: mini-golf, canoeing, mountain biking, sports course, swimming school.
Le Moule has always been a flagship of traditional music (Gwo Ka with Robert Loyson, Anzala, les Mayolès), beguine, and Indian music. As a result, bands who take inspiration from traditional music are favored, but concerts of different genres of music are organized, as are classical concerts.
You can also visit:
The Saint Jean-Baptiste parochial church, classed as a historical monument
The Edgar Clerc archaeological museum
The Néron habitation
The bay's mangrove