Even though Anse-Bertrand is peaceful and focused on fishing, it is a big tourist attraction nonetheless. Formerly a land for making cotton and growing sugar cane, Anse-Bertrand is located in the North end of Grande-Terre. Even though the land is particularly dry and rocky, Anse-Bertrand offers wonderful and grandiose landscapes! Cliffs, coves, and amazing beaches make up its landscape.
Main attractions
---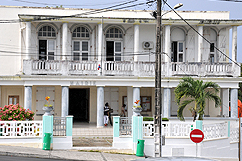 Beaches
Kayaking
Diving and snorkeling
Hiking and mountain biking
The Douaniers track
La pointe de la Grande Vigie
Porte d'Enfer
Trou à Man Coco
La Pointe du Souffleur
Windmills
Cart ride
Anse Bertrand activity details
---
La Pointe de la Grande Vigie, which is located 6 km away from Anse-Bertrand, offers a wonderful landscape with 90-meter-high cliffs that overlook the ocean. It is a perfectly unconventional sight in Guadeloupe, and many tourists come and discover it on a hike on these cliffs that are worthy of the Anglo-Norman cliffs!
The sea breaks at La Porte d'Enfer, another amazing location. However, the nature in this place is calm and preserved. And, contrary to its name, this cove is a heavenly location. This lovely little cover is a really delightful green oasis, with turquoise waters filled with multicolored fishes and surrounded by high cliffs. The caves dug by the sea are impressive and you can see volcanic rocks. The region's landscapes also offer many windmills, remnants of the past.
For all of these reasons, you can go kayaking, diving, or snorkeling in peace in Anse-Bertrand, far away from mass tourism. You will be in perfect harmony with nature.
Local entertainment
---
Anse Bertrand festival - Saint Denis - (October 9)
Beaches
---
Plage de la chapelle
Plage de la porte d'enfer
Plage de l'anse laborde
Additional information
---
The Anse-Bertrand cliffs, one of the highlights of Guadeloupe.