The commune of Deshaies, a renowned stop for cruises, has some of the most beautiful beaches in Guadeloupe. The heights of the city, which give a great view that overlooks the sea, let you see a landscape of sea and cliffs that fall in the water... wonderful. Even though Deshaies is a small fishing village, it is not short of tourist activities.
Main attractions
---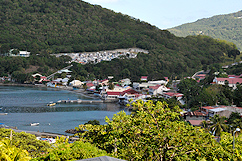 Marina
Nautical activities
Diving
Big-game fishing
The Deshaies botanical garden (formerly owned by Coluche)
Ilet Kawane
Deshaies church
Botanical and wildlife parks and gardens
La Montagne aux orchidées
Deshaies activity detail
---
Even though it is very touristic, the charming commune of Deshaies has managed to stay authentic, and the creole culture manifests itself through the presence of many wooden huts. Deshaies and its surroundings are appreciated by the local population, as well as tourists from all over the world.
The local cocoa, vanilla, and coffee crops delight the palate. Leisure and animal parks are also worth visiting! One of the main tourist attractions in Guadeloupe, the Deshaies botanical garden, was formerly owned by the famous French comedian and actor, Coluche. It shelters an extraordinary exotic garden with rare and magnificent plants.
You can go on boat trips, with or without a guide, go jet skiing, and do nautical activities, such as diving and big-game fishing.
On land, a horse ride on the mountains or one of the lovely beaches could enchant you and give you an itch to come back!
Local entertainment
---
Deshaies festival -St. Pierre and St. Paul- (July)
Beaches
---
Plage naturiste morne rouge
Plage anse Tillet
Plage grand bas vent
Plage fort royal
Plage de la perle
Plage de l'anse Rifflet
Plage de Grande Anse
Plage Paul Thomas
Plage Leroux
Plage de Ferry
Additional information
---
Deshaies is also known for having suffered the worst plane accident in Guadeloupe's history, where an Air France Boeing 707 crashed into the city's coffee plantation and took 113 lives, including that of Guadeloupian author Paul Niger.