We could call Bouillante "the green," as it so focused on ecology. Between the Caribbean Sea and the volcanic mountains, Bouillante has many attractions for tourists that are itching to see nature. Bouillante is world-renowned for its underwater diving. Many hikes go through or are accessible via Bouillante and are part of the National Park.
Main attractions
---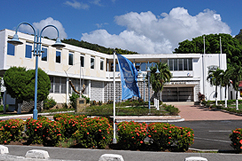 Beaches
Exceptional sea floors
Cousteau Reserve
Les ilets Pigeon
Amusement parks
Parc des mamelles - zoo
Warm-water springs and pools
Rivers and waterfalls
Bouillante activity details
---
The Caribbean Sea borders la côte-sous-le-vent and offers multiple activities. The most popular activities in Bouillante are underwater diving, tours, sea kayaking, boat trips, watching cetaceans, and big-game fishing. Les ilets Pigeon, known worldwide by divers because of the Cousteau Reserve, are at the heart of the Guadeloupe National Park. There are also a lot of things to do on land in Bouillante, with its rural trips and discoveries. You can go canyoning, seawalking, or hiking. Volcanic mountains offer great strolls and hikes which are full of exotic surprises, plants and animals. Choosing an experienced guide is the best way to safely admire these secret animals and plants.
Local entertainment
---
Carnival procession and election of the king and queen of the carnival (February)
Craft fair (February)
Bouillante festival (Saint Louis - August)
Beaches
---
Plage de Malendure
Plage petite anse
Plage anse à sable
Plage de l'anse thomas
Additional information
---
Bouillante is one of the global destinations for demanding divers. The Parc des Mamelles is also a must-see attraction for wildlife and plant lovers.