Basse-Terre, in the southwest of Guadeloupe, is an old and impressive commune. It is the administrative capital of the archipelago. Located at the bottom of the "La Soufrière" volcano, it is boxed in this steep region, with a remarkable boulevard on the sea front. It is located in a lovely mountainous region where tourists can do many attractive activities.
Main attractions
---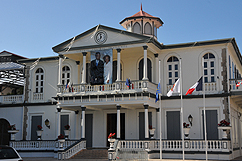 Beaches
Diving
Guided hikes
Bains jaunes
La Soufrière
Bologne distillery
Botanical garden
Parc de Beauvallon
Fort Louis Delgrès
Saint-Pierre and Saint-Paul Cathedral in Basse-Terre
Grand marché
Basse-Terre activity details
---
In Basse-Terre, you are surrounded by green, and it goes up and down. If you go down to the sea and to the colorful beaches, there are remarkable diving spots for divers of all levels.
Fans of hiking will also be happy… wonderful banana plantations, sugar cane fields as far as your eyes can see, and the dense, humid, and lush tropical forest majestically falls into the sea. This flagship city is also where many tours and discoveries start, like the tour of the Bologne distillery – the rum of Basse-Terre – and guided or non-guided hikes around les bains jaunes and la Soufrière.
Take advantage of the freshness of the surrounding rivers and the beauty of the black-sand and sugar-cane-colored beaches. Don't forget to go to the maison des Corsaires, the Grand Marché, and the botanical gardens.
Local entertainment
---
Music and choreography contest (Beginning of January)
Carnival – School parade (End of January)
Carnival – King and Queen contest and Parades (Beginning of February)
Basse-Terre festival, St François (Mid-October)
Basse-Terre festival, Ste Thérèse (Mid-October)
Basse-Terre festival (Beginning of December)
Beaches
Additional information
---
The town has also been designated "Town of Art and History" since 1995..