The peaceful commune of Baillif, in the southwest of Base-Terre, is welcoming. It offers a tranquil and exotic environment, far away from the turmoil. However, Baillif is not short of historic and tourist attractions. Once threatened by the English 200 years ago, a defensive tower was erected by Dominican priest Jean-Baptiste Labat.
Main attractions
---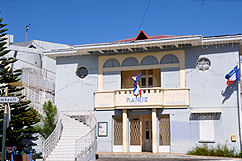 Beaches
Hike with guides
Diving
Canyoning
Fishing
Aerodrome
Father Labat's tower (vestige of the past)
Guadeloupe coffee museum
Matouba falls
Baillif activity details
---
If you are sporty and love nature, you are going to enjoy the communes of Basse-Terre, like Baillif. You will be able to do nautical sports, like diving, canyoning, or fishing in the sea or river, far away from mass tourism.
If you are more attracted to admiring the wildlife and plants in the tropical forests, you are invited to go hiking at the heart of the Guadeloupe National Park. And for those who would like to relax, you can go to the Matouba falls, at the heart of the National Park!
Baillif's other tourist attractions are historic. It has over 200 years of history and was inhabited by Dominican monks, including Father Labat, who was known for his writing, from the 17th century. A rum distillery and Baillif's defensive tower are named after him.
Local entertainment
---
Baillif festival (Beginning of August)
Additional information
---
You will discover coffee in all of its forms in the coffee museum located nearby.