Come and be underwater astronauts (5-6 meters deep)! This is the only sea walking experience of its kind in France. It is open to anyone from 8 to 77 and over (the oldest person to do this was 93), you will breathe naturally with your diver helmet (180° vision) just placed on your shoulders. Ideal for people who do not know how to swim or people who are scare about scuba diving. Your guide, a professional diver, will direct you and be with you underwater at all times during the sea walk, and you will discover the wonders of the Cousteau Reserve with the guide. You are in a beautiful aquarium. It's very fun, fits of laughter guaranteed.
Key points
---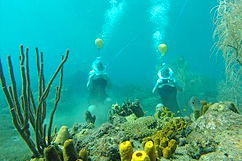 Safety: 2 divers for 4 walkers
Professional diving guides
180° vision
Friendly and fun
Unique thrills
Rare experience
20 to 25 minutes underwater and a 10-minute briefing
Free video (bring a USB key or an SD card)
Regressive rate
Activity details
---
From 8 to 93 years old (the oldest person to have taken part) and over… at any time, you are welcomed by sea walking professionals at the Malendure beach, in Bouillante. For the only activity of its kind in France , the professionals will explain how the equipment works (helmet and suit) and what happens during the activity (path, discoveries, and thrills).
You will then set off to the sea walk spot with your professional diving guide in groups of up to 4 people (up to 2 people per diving instructor). Once you have arrived, you will get a 10-minutes briefing before putting the equipment on. The 180° vision helmet is placed and adjusted on your shoulders more easily than a motorcycle helmet. The helmet is connected to the outside with a tube that supplies you with fresh and dry air which you'll breathe naturally as if you were on land, out of the water.

An extraordinary adventure of underwater life and happiness has begun. For once, you are in the bowl, not the fish. At 5-6 meters underwater, you are truly in the Cousteau Reserve's magnificent natural aquarium. Go and discover the cofferfish, damselfish, octopuses, and other multicolored wonders.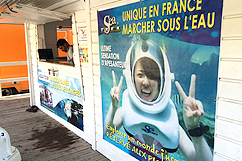 This activity does not only make you appreciate the preserved nature, but it is also fun because the thrills are extremely fun to share, they are unique and new to everybody. Your face will remain dry, and you will even be able to put your hand in your helmet, your face and hair will remain dry. You feel free even though you are in another dimension, with sensations of weightlessness akin to astronauts on the moon.
You will be in the realm of silence and its grandiose views, despite the noise that the oxygenation makes. The sea walk is very safe, and the diving instructors are with you at all times to reassure you and make sure that you are comfortable. Make no mistake, this activity is really enchanting, as our videos show. Welcome to 20,000 Leagues Under the Sea!
Summary of the service (50 minutes - including 20-25 minutes underwater)
Reception and inscription
Take the suit (optional) and slippers
Accompaniment to the diving spots (100m away)
Instructions and technical presentation of the dive
Put on the equipment
Immersion and sea walk
Return to the center and receive the video
Included
---
Helmet
Diving suit
Slippers
Free video (bring a USB key or an SD card)
What to bring
---
Swimsuit
Towel
Waterproof camera
Additional information
---
Highly-requested activity: BOOK EARLY!
Accepted payment methods: cash or holiday vouchers
For people aged 8 and over (no maximum age)
Restrictions for women who are over 3 months pregnant
Map and Schedule
---
The rendez-vous point is on the malendure beach, in Bouillante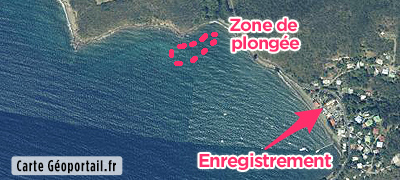 Schedule
Monday

8:30 - 18:00

Tuesday

8:30 - 18:00

Wednesday

8:30 - 18:00

Thursday

8:30 - 18:00

Friday

8:30 - 18:00

Saturday

8:30 - 18:00

Sunday

8:30 - 18:00
Booking
---