Specialists of the wildlife and plants in the Caribbean Sea will show you the secrets of the reef at the heart of the National Park, the Ilets Pigeon (Cousteau Reserve). If you don't know how to swim, or are not comfortable snorkeling, you will be sure to have a guide stuck to your fins to reassure you. We are members of the Guadeloupe Marine Turtle Network, and we will teach you how to approach the turtles without bothering them.
Key points
---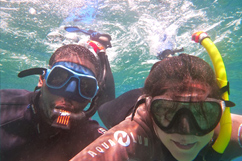 Up to 10 participants per guide
Only 2 trips per day for high-quality hikes
Guide who has a state diploma will accompany the participants in the water to ensure that they discover the environment, are comfortable and safe
Premises + 60 m² deck equipped with lockers, 2 changing rooms + showers
Beach with showers, toilets, and a big parking, as well as huts with tables, benches + 4 restaurants.
Activity details
---
Meet up at the premises at 9:00 or 13:30
Wetsuit (short or long) to protect yourself against the sun and urticants. Disinfected, high-quality fins, masks, and snorkels, which meet the requirements for respecting the underwater environment, will be provided.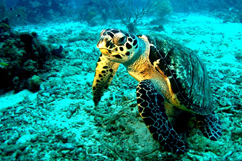 Set off at 9:30 or 14:00 on the boat to get to the Ilets Pigeon (formerly known as the COUSTEAU Reserve) in 10 minutes
An hour and a half on the surface with your guide next to you in the water who will tell you what you see, multicolored fish, corals, sea fans… the life in the reef
5 minutes on the boat again
45 minutes on the surface, still with the guide next to you in the water who will show you the green turtles while respecting the rules put forward by the ONCFS and the Guadeloupe Marine Turtle Network
Return at around 12:30 or 17:00 while drinking and aperitif on the boat.
Included
---
Equipment: fins, mask, and snorkel
Wetsuit
Boat
Guide with a state diploma
Inflatable board held by the guide, which the people who can't swim can hold on to
Cone of vision for young children who are not used to masks
Cooler with drinks and crackers/sweet biscuits
Additional information
---
Open to anyone aged 4 or over
At least 4 people
You do not need to know how to swim, the guide will be with you in the water
You must book for this activity because there can only be up to 10 people per guide
Accepted payment methods: check, holiday voucher, cash, bank transfer, credit card
Map and Schedule
---
Anse Caraïbes beach in Pointe Noire, trips all year round at 9:00 and 13:30 from Monday to Saturday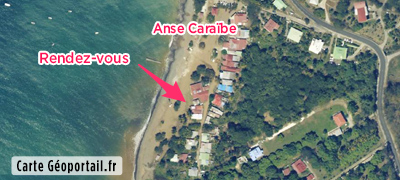 Schedule
Monday

9:00 to 13:30

Tuesday

9:00 to 13:30

Wednesday

9:00 to 13:30

Thursday

9:00 to 13:30

Friday

9:00 to 13:30

Saturday

9:00 to 13:30
Booking
---