Whether you are an adult or a child, learn how to windsurf or fun board step by step with professional instructors on a safe and ideal water surface. Come and learn the rules and different ways of sailing, balance, lifting the sail, feet and hand positions, tacking, gybing etc. For the more advanced people, come and perfect your skills by getting the technical advice that you have been lacking and by using more technical equipment.
Key points
---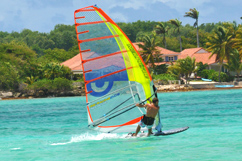 Individual or group lessons
Learn at your own pace
Quality label from the France Station Nautique national network
Ideal wind conditions (regular)
Perfect water surface for all levels
Zones that are protected from chops
Lessons that are adjusted for each person and quality equipment provided
Open 7 days a week
Activity details
---

The Saint-François watersports center, which belongs to the France Station Nautique national network, guarantees quality and safety. It offers you several packages to learn windsurfing or hone your fun board skills. The water surface is particularly ideal to learn all of the techniques required to master this easy, yet very technical, sliding sport.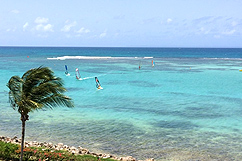 You will have a small space at the front of the beach to start learning the maneuvers under the supervision of professional instructors. You will have a medium space at the front of the beach to start to learn freely and you will have a big space of the lagoon to improve your skills. The center's professionals are there to give you technical advice and help you feel safe.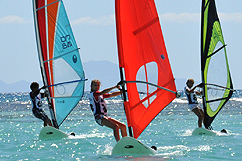 Beginners will learn the fundamental rules of sailing, speeds, balance, how to lift the sail, to position their hands and feet, tacking, gybing etc. Private lessons: one-hour lessons, 3-hour starter package for individuals or groups. It is also possible to go on courses: beginner or refresher package for adults and children with 5 2h30-long lessons.
Fun board Refresher training courses are either one hour or three hours long. Do Waterstarts, Gybes… Duke Gybes…! Once again, the Saint-François lagoon is the perfect place to learn and perfect windsurfing. Independence and freedom are yours! Godspeed!
Included
---
Complete kit (windsurfing board, harness)
What to bring
---
Lycra
High-factor sun screen
Shades with strap
Slippers
Additional information
---
Snack meal negotiated with the "Le Mareyeur" restaurant for 8€ per person, WIFI access (near the watersports center – closed on Tuesdays).
Children: at least 8 years old. They must have permission from their parents and a medical certificate that says that they are allowed to do windsurfing for courses.
December to June is the main wind period (15-25 knot trade winds, sometimes more). The winds are mainly easterly. Orientation of the spot: South (Wind orientation compared to the spot: side, side-on)
If lessons get canceled because of bad weather, you will be refunded for the canceled lessons.
Map and Schedule
---
Monday-Saturday from 9:00 to 12:30 and 14:00 to 17:00
Continuous during school holidays and national holidays.
Sundays from 9:00 to 14:00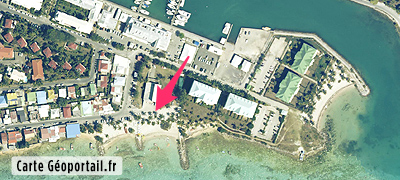 Schedule
Monday

9:00-12:30 / 14:00-17:00

Tuesday

9:00-12:30 / 14:00-17:00

Wednesday

9:00-12:30 / 14:00-17:00

Thursday

9:00-12:30 / 14:00-17:00

Friday

9:00-12:30 / 14:00-17:00

Saturday

9:00-12:30 / 14:00-17:00

Sunday

9:00-14:00
Booking
---