Taking advantage of Guadeloupe is also taking advantage of its oceans, the Caribbean side, and the Atlantic side. Guadeloupe is lucky enough to have many surfing spots suited to surfers of all levels on both sides. Whether you are an amateur or an advanced surfer, whether you are alone or with your family with a desire to learn a new sport while having fun, we adapt to all levels. Multilingual instructors are ready to welcome you in the language of your choice and with the enthusiasm that characterizes our family-like school.
Key Points
---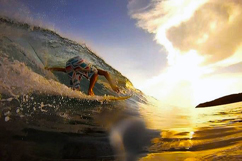 Possibility to be picked up from Sainte Anne or Saint François
Certified, multilingual instructors (Russian, English, Czech, Italian…)
All ages and levels welcome (7 to 77 years old)
Quick introduction to surfing in a perfectly-suited spot
Surfing gear and video coaching provided
Insurances included
Activity details
---
You can never be too old or too young to feel the thrills of surfing along the waves. Our surfing club is for the whole family and for people of all levels; children, adults, and even seniors can take part. The day starts either at Sainte Anne or at Saint François, but it starts more often than not at the Spot du Helleux (ideal to be introduced to surfing). From there, the instructors will take great pleasure in showing the best techniques to tame the waves and surf in style. The main thing, however, is to have fun, and with us, fun is on the agenda with our lovely guides who are always there to listen and who are never far away from you.

Surfing package for all levels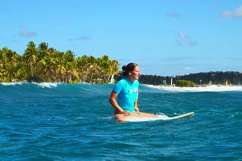 Beginners will be able to count on our 10-hour discovery package, which is split into 2-hour sessions every day for five days (5 2-hour-long sessions at 36€ each). More advanced surfers will be able to sign up for individual 2-hour sessions. In any case, results are guaranteed by our certified surfing instructors who have a solid educational experience in one of the five languages spoken at the club (French, English, Russian, Italian, and Czech).
Surfing Guide for advanced surfers
Our school is also open to advanced surfers who are looking for the most beautiful waves in the archipelago. We offer guided surfing sessions to these surfers so they can surf on the spots most suited to your level and to your wishes. These sessions will allow you to enjoy the beauty of our region to the fullest while perfecting your techniques.
Package details
Introduction: 2 hours = 40€ (at least 2 people)
Discovery package: 10 hours over 5 days. Each surfing lesson is 2 hours long. 5 x 36€ = 180€
Individual lessons: 1 2-hour-long session = 75€
Guided surfing: 50€ for the day for one person / 40€/person starting from two surfers

Included
---
Boards
Various maintenance accessories
Insurances
What to bring
---
Water bottle
T-shirt to protect yourself from the sun
Cap if needed
Additional information
---
Book in advance in order to organize your trip and ensure us that your group is homogenous.
Book at the beginning of your stay so we can adapt to the weather.
The surfing spots may be changed depending on the sea state.
You must know how to swim.
Children aged 7 or over are allowed.
Cash is the only accepted payment method for this activity.
Map and Schedule
---
The time of the trips will be confirmed the day before the trip by your instructor depending on the swell and your surfing spot.
Booking
---