All-inclusive day from Saint-François or Sainte-Anne with an underwater dive at the Cousteau Reserve, a sea walk, and a picnic on the Anse Caraïbe in Pointe Noire. We will pick you up from your place of residence. A friendly day that your guide and certified diving instructor will make unique (client satisfaction comes first).
Key points
---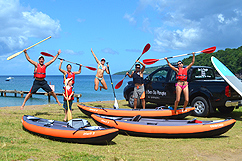 Transport included from your place of residence to the diving club.
Certified instructor who is as cheerful as he is effective.
Friendliness: small groups of up to 4 people.
All-inclusive day with dives, a sea walk, tour, and picnic.
Activity details
---
The Cousteau reserve is a protected marine space at the heart of the Guadeloupe National Park. The sea floors around the ilets Pigeon contain many species of corals, sea fans, sponges, groovy brain corals, tropical fish, lobsters, and sea turtles. On the agenda for the day: diving baptism or exploration dive for divers who have dived before, a picnic on the Caraïbes beach, and a sea walk at the anse négresse along the coast leeward.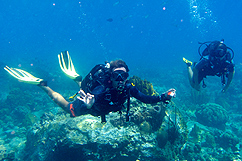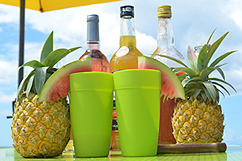 For the youngest people (6 years old), the baptism is done very close to the surface without oxygen tanks. Depending on the age, divers will be asked to gradually go further down to 3 meters or 6 meters for adults. For baptisms, each diver will be supervised by an instructor with a state diploma. Divers of all levels will also be supervised.
A baptism lasts 20 to 25 minutes in general. A dive for a person who has their cards lasts 50 to 60 minutes.
Set off from St-François at 7:00 (for dives that start at 9:30) or 8:30 (for those that start at 11:00) – You will be told the exact time 2-3 days before.
The length of the tour will depend on traffic. You will discover the points of interest if you are ahead of schedule.
You will arrive at the Malendure beach in Bouillante at 8:30/9:00
Coffee: no stress! We will continue our morning the same way that we started the tour, with a smile and good spirits from your guide.
You will then take the equipment which your guide will help you move.
Board the boat to set off at 9:30.
You will be at the Cousteau Reserve National Park for an hour and 30 minutes.
You will come back from the islets to get to the club at around 11:30.
Small break for a planteur (or fruit juice for children) at the club.
You will then set off to the anse Caraibes.
Aperitif on the beach (home-made planteur, melon, and snacks) at around 12:30.
Picnic at 13:00: tuna and olive cake, cucumber and tomatoes in a salad, marlin rillettes, home-made pineapple cake, water and juice, coffee.
14:00 Set off on a sea walk (mask + snorkels).
Little snack on the creek before going back to the anse Caraibes beach at around 16:00.
Set off to St-François at 16:30.
Stop at the Maison du Cacao and the Cascade aux Ecrevisses on the Route de la Traversée, or see the sunset if you set off later (end of morning tour).
You will arrive at Saint-François between 18:30 and 19:30.
Included
---
Mask and snorkel for the sea walk
Full diving kit (vest, pressure reducer, oxygen tank, lead weights, fins)
Shorty and lycra wetsuit
Transport from St François / Ste Anne to the diving base at the Cousteau Reserve
Showers and toilets at the club, as well at the Anse Caraibes beach
Snack and picnic
Additional information
---
At least 2 people, up to 4 people during the week, and up to 8 people during the weekend. Why? Because your guide wants to keep a reasonably-sized group for the trip with one goal in mind: to offer you a real vacation day full of discovery at your own pace and in good spirits.
Inappropriate for pregnant women.
You must be at least 6 years old to take part in the diving baptism
Map and Schedule
---
The diving club is at 25, boulevard Achille René Boisneuf in Port Louis. Take the Boulevard du front de mer by going towards the plage du Souffleur. You will find the club on the sea side of the road just after the church.
Open every day except Tuesday.
The dives start at 9:00 and 14:00.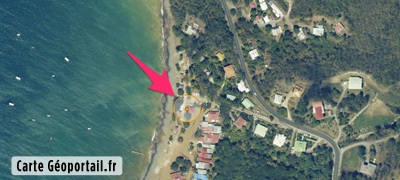 Schedule
Monday

7:00 to 19:30

Tuesday

Closed

Wednesday

7:00 to 19:30

Thursday

7:00 to 19:30

Friday

7:00 to 19:30

Saturday

7:00 to 19:30

Sunday

7:00 to 19h30
Booking
---