From the marina, the biggest diving club in Saint-François offers you exploration dives from level 1 and onwards every morning in a friendly atmosphere. All-inclusive package with 2 dives, with 45 minutes in between, in 2 different locations. A snack and drinks will be served on board between the 2 dives that you will do on the same trip.
Key points
---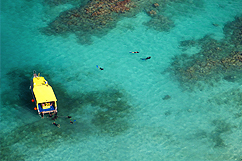 Ideally located in the marina
Availability and friendliness
Snack and drinks served on board
Welcomes individuals and groups
Equipment (oxygen tanks, pressure reducers, vests, fins, masks, and wetsuits) that is updated every year
No porting of the oxygen tanks
Shaded, spacious, and fast boat to get to the locations
More than 30 diving spots, including La Désirade, Banc des vaisseaux and the Petite Terre reserve
CMAS, ANMP, FFESSM, PADI Center
Activity details
---
We meet up with you every morning at 7:30 for an exceptional morning during which will you go on two dives in two different spots in the list of 20 spots that we offer. The crew will choose 2 ideal diving spots depending on the weather, the divers' level, the day, and the spots that you may have already visited.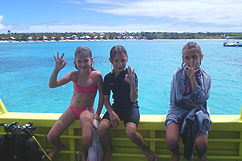 Therefore, you will be asked which spots you have already visited or which spots you would like to discover the most when you book. We will also ask you which other days you could possibly do so we can offer the spots that suit you the best (see the list below). In any case, your dives will be done when the sea state is smooth and depending on your preferences. They always be done safely with certified instructors and in good spirits.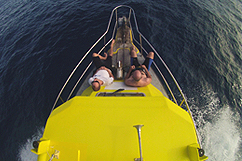 You will be served a snack and hot or fresh drinks between the two dives which last around 45-50 minutes each. This short 45-minute break will allow you to talk about the wildlife and plants in the Caribbean, as well as your impressions and emotions. You will get to the diving spots safely and quickly thanks to our boat which is suited to diving and which can hold up to 20 divers in the shade.
You will return to the Saint-François marina at around 12:00.
Diving spots
---
10-15 minutes away
Near the Saint-François coasts
La Main jaune – 16 meters
Kaledo – 14 meters
Le Lac – 18 meters
La Baie des anges – 25 meters
Le Jardin japonais – 18 meters
L'arche – 13 meters
Pointe des châteaux
L'Aquarium – 16 meters
Mervillon – 14 meters
La Pointe des châteaux – 22 meters
L'Autre monde – 20 meters
Anchorage
Le Jardin – 16 meters
La Polonaise – 14 meters
Manioc – 15 meters
Le Château d'Ella – 12 meters
L'Ancre – 20 meters
30-75 minutes away
Banc des vaisseaux
Roche nord – 20 meters
Roche guismo – 20 meters
Petite Terre
Roche merveilleuse – 20 meters
Roche moyenne – 18 meters
Roche a Gilles – 15 meters
Passe à canard – 8 meters
La Désirade
Les Cathedrales – 25 meters
le Tuyau – 18 meters
La Brésillienne – 12 meters
Included
---
Full kit
Snack, drinks
Possibility to rinse yourself on the dock
What to bring
---
Swimsuit
Towel
Certification card
Dive log

Additional information
---
Level 1 diving certification required
Accepted payment methods: checks, cash, holiday vouchers, and sports vouchers
This activity is not suitable for pregnant women and people with health problems
Children aged 8 or over are allowed.
You are not allowed to dive 24 hours before getting on a plane
Map and Schedule
---
Located on the St-François marina, next to the harbor master's office, along the Golf de St-François.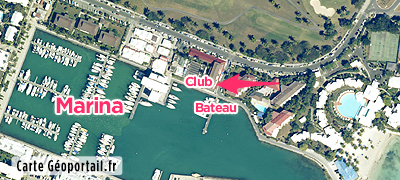 Schedule
Monday

7:30 - 12:00

Tuesday

7:30 - 12:00

Wednesday

7:30 - 12:00

Thursday

7:30 - 12:00

Friday

7:30 - 12:00

Saturday

7:30 - 12:00

Sunday

7:30 - 12:00
Booking
---