Nicard, who has been a fisherman for over 20 years, is an accomplished athlete, a volunteer for the Ti Tè association, which aims to protect the nature reserve, and has a personality that is as passionate as it is endearing, will know how to make you have the most amazing days at Petite Terre. You will have the privilege of sharing the best of the West Indian culture with a small group by being on board of his brand-new, cheerily-colored saintoise.
Key points
---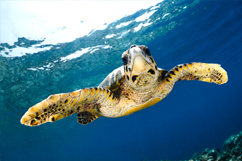 Skipper and owner devoted to his customers and happy to share his passions
New, light and maneuverable boat
Skipper's experience (he has been a fisherman for 20 years)
Fish that he has fished himself : always!
Home-made local meal – pies/gratin/madras rice…
Petite Terre specialist and volunteer for the Ti Tè Association
Athlete (windsurfing instructor)
Activity details
---
Your day with Nicard will start without haste. Whereas most cruise ships hurry to get to the island of Petite Terre, Nicard prefers to welcome his guests at 7:45 to set off at around 8:00. According to him, a good day on vacation should not start by rushing. But fear not, you will also be the last ones to leave the island and you will be able to enjoy one of the most beautiful moments of the day when nature takes its course and the warm colors of the end of the day make this small paradise even calmer.

The crossing to the islets is done in a saintoise, a traditional boat used by Guadeloupean fishermen and a version of which Nicard has that is designed specifically to comply with the strict passenger transport safety standards (NUC certification). You can tell which boat is his because it is brand new and is a fuchsia pink color, inherited from his wife. She is also the one behind the succulent banana gratin that she keeps extremely secret.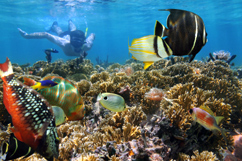 Once you have arrived on the island, Nicard does a quick briefing on Petite Terre before inviting you for a welcome drink with some fresh fruit. You will then choose to either dive in the lagoon or go on a small tour of the island: lighthouse, the wildlife and plants, including the thousands of famous West Indies Iguanas. You are lucky because other than the fact that he goes to Petite Terre ever since he was very young, Nicard knows this location's environment like the back of his hand and is also a volunteer for Petite Terre's nature reserve. As a result, he knows everything that can happen here.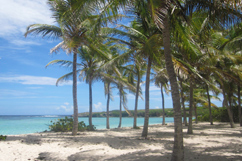 After the visit, you will be invited to a special aperitif during which you will taste his home-made Punch. You will also be taught how to make fish pie, a pie that you will have the pleasure of tasting during the meal. The meal consists of a salad starter, then a pie and grilled fish with a banana gratin and madras rice. Bananas cooked in sugar/lemon to top it all off. Coffee is also on the menu.
According to Nicard's schedule, you will have all the time needed in the afternoon for farniente and to discover the marine environment with fins, masks and snorkels provided. Before you leave, Nicard will show you the coast of Terre-de-Haut where the turtles tend to go. He will then go near the buoy where you will have the best chance of seeing dolphins, then you will go back to the Saint-François marina, where this wonderful adventure started, delighted to have enjoyed a true day of vacation.
Summary of the day
Meet up at the fishing harbor at 7:45 to board at 8:00
Arrive at Petite Terre at around 8:45
Briefing on Petite Terre
Welcome drink and fresh fruit
Swim and/or visit of the island
11:45 aperitif
12:15 meal
13:30 swim and/or farniente
15:30 turtle watching on the boat
16:00 search for dolphins
16:30 / 17:00 arrival at Saint-François
Meal (Wine included)
Aperitif - Cocktails with or without alcohol - Accras
Starter: tomato salad and fish pie
Main course: Grilled fish that he caught himself
Side dish: banana gratin and madras rice
Banana dessert with sugar/lemon
Coffee
Included
---
Crossing to Petite Terre
Welcome drink and fresh fruit
Briefing on Petite Terre
Aperitif and home-made barbecue fish
Swimming - Snorkeling (fins, mask and snorkel)
What to bring
---
Snorkeling equipment (mask and snorkel)
Beach towel
Spare clothes
Sunscreen (preferably organic)
Camera
Hat
Additional information
---
A minimum of 8 people is needed for any departure to Petite Terre. Book early in order for us to be able to accommodate you on the dates that you pick.
This activity is inappropriate for pregnant women and people with health problems, , so pick l'excursion catamaran instead in these cases. ICIGO also discourages children under the age of 8 to do this between December and April unless the conditions are favorable.
In heavy conditions, only children above the age of 6 will be accepted.
Departure if the swell is 2m or below.
Payment methods: cash or credit cards (no cheques or holiday vouchers)
Map and Schedule
---
Meet up at 7:45am at the fishing harbor gas station.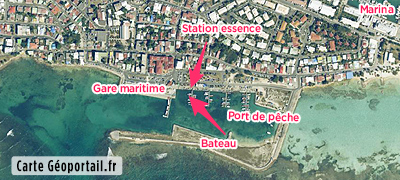 SCHEDULE
Monday

7:45 - 17:00

Wednesday

7:45 - 17:00

Friday

7:45 - 17:00

Sunday

7:45 - 17:00
Other popular excursion with this boat
---
Poul'do - Promenade à la pointe des châteaux
Booking
---