Go and discover the beautiful landscapes that Petite Terre has to offer on board the Nemo. Manu will make you share his passion for the aquatic environment thanks to his experience as a qualified diver, he will show you the right places to discover what you can't miss in Petite Terre's nature reserve.
Key points
---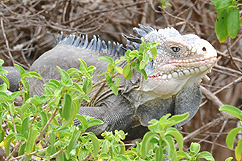 Good atmosphere
Heavy boat that eases through the waves
Home-made meal
Diving certification (perfect knowledge of the marine environment)
Activity details
---
Your skipper, Manu, asks you to be at the boat for 7:30 so he can proceed to boarding. Once everyone is on board, prepare to raise the anchor and go to Petite Terre! Once you arrive on this little, heavenly island, get comfortable, get your towel, swimsuit, shades, sunscreen, and take advantage of this nice moment of relaxation.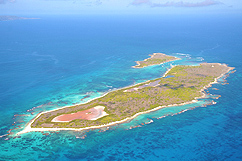 The adventure starts with a briefing on the rules of Petite Terre's Reserve, followed by a tour of the island in good spirits either on your own, or with all of the passengers. You will have the pleasure of observing the heavenly landscapes and approaching the iguanas that inhabit the island. Have your cameras ready so you can capture the moment. You will get a full explanation of the map and history of Petite Terre.
Are your stomachs empty? Don't worry, everything is planned to satisfy your hunger. On the menu: aperitif with peanuts and tuna rillettes, you will get coconut punch, planteur, and home-made ti punch for your thirst. To keep up with the local touch, you will get taste a salad, fresh vegetables, tomatoes, cucumbers, sweetcorn, fresh basil and parsley from the garden.

You will then be served a tuna or marlin marinade with a side dish of saffron rice (chicken for children) and its home-made sauce chien (dog sauce). For the gourmands, there is flambéed bananas with lemon rum for dessert. To quench your thirst: water, rosé, and fruit juice.
After this nice feast, you will be able to enjoy the sea, the fine sand, and the sun. Go on a fun search for turtles that are staying on the other side of the lagoon afterwards. You will take the time to admire them, and you will leave with plenty of beautiful memories. Note that Manu will not forget to try to see the group of dolphins which have chosen to live not far from there, near their favorite buoy.
Summary of the day
7:30 Meet up a the Saint-François Marina – 7h40 Boarding – 8h00 Departure
7:40 Boarding
8:00 Departure
8:45 Arrival at Petite Terre
Swim and/or guided tour of the island
11:45 Aperitif
12:15 Meal
13:30 Swim and/or farniente
15:30 Turtle watching from the boat
16:00 Search for dolphins
16:30/17:00 Arrival at Saint-François
Meal with wine included
Aperitif: Planteur, ti punch with or without alcohol, peanuts, and marlin rillettes
Starter: mixed salad
Main course: tuna or marlin marinade, chicken for children
Side dish: saffron rice
Dessert: flambéed bananas with sugar/lemon rum
Coffee
Included
---
Crossing to Petite Terre
Briefing on Petite Terre
Guided tour
Aperitif and home-made fish BBQ
Palmes, masque et tuba
What to bring
---
Beach towel
Spare clothes
Sunscreen (preferably organic)
Camera
Hat or cap
Additional information
---
A minimum of 8 people is needed for any departure to Petite Terre. Book early in order for us to be able to accommodate you on the dates that you pick.
This activity is inappropriate for pregnant women and people with health problems; pick l'excursion catamaran instead in these cases. Not suitable for children under the age of 5.
Departure if the swell is 2m or under.
Payment methods: cash or checks (no credit cards or holiday vouchers).
Map and Schedule
---
You will meet up at 7:30 at the north-eastern side of the Saint-François marina, just next to the Paradoxe croisières office.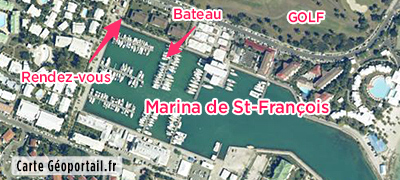 Schedule
Tuesday

7:30 - 17:00

Wednesday

7:30 - 17:00

Thursday

7:30 - 17:00
Booking
---