Cast off! Go on a journey of discovery on board the Nemo and see the wonderful landscapes that Marie Galante has to offer. Combine moments of relaxation and discovery in one of the warmest atmosphere. Come and enjoy the sea beds, the Caribbean waters and all of the wonders that inhabit them. Your adventure starts today!
Key points
---
Good atmosphere
Heavy boat that goes smoothly through the waves
Home-made meal
Diving certification (perfect knowledge of the marine environment)
Activity details
---

Direction Marie Galante! Once you have arrived at St-Louis, you will go on a guided tour of the island if all of the passengers are up for it. Your cameras are recommended to capture the many memories and magnificent landscapes, all as wonderful as each other.
It is time to eat, sit down and prepare to taste a succulent creole dish. To start, however, you will get an aperitif with peanuts, tuna rillettes, coconut punch, planteur, and home-made Ti-punch for fans of West Indian drinks. For your starter, a beautiful plate of salad, tomatoes, cucumber, sweetcorn, basil, and parsley fresh from the garden. The main course consists of a tuna or marlin marinade (chicken for the children) with a side dish of saffron rice and a home-made sauce chien (dog sauce). For the gourmands, you will be brought a dessert of flambéed bananas with lemon and rum. The available drinks are water, rosé wine, and fruit juice.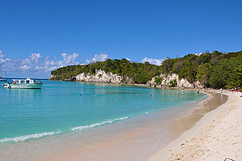 To finish the day in style, it is time to put on your fins, mask, and snorkel (provided) and go see the sea beds and its inhabitants from the side of the Anse Canot and the Ilet Vieux-Fort (when the swell allows it). As the sun sets, you will set off on a smooth and calm return trip to Guadeloupe... there is no doubt that you will leave the Grande Galette (the Big Biscuit), as we call it here, with many memories to share!
Summary of the day
Meet up at the St-François marina at 7:30 – Board at 7:40 – Departure at 8:00
Arrival at Marie Galante at 8:45
Swim and/or guided tour of the island
11:45 aperitif
12:15 meal
13:30 swim and farniente
16:30 / 17:00 arrival at St-François
Meal (wine included)
Aperitif – Planteur, ti-punch with or without alcohol, peanuts, marlin rillettes
Starter: mixed vegetable salad
Main course: tuna or marlin marinade, chicken for the children
Side dish: saffron rice
Flambéed bananas with sugar/lemon rum
Coffee
Included
---
Crossing to Marie Galante
Briefing on Marie Galante
Guided tour
Aperitif and home-made fish BBQ
Swimming - Snorkeling with fins, mask, and snorkel provided
What to bring
---
Beach towel
Spare clothes
Sunscreen (preferably organic)
Camera
Hat
Additional information
---
A minimum of 8 people is needed for any departure to Petite Terre. Book early in order for us to be able to accommodate you on the dates that you pick.
This activity is inappropriate for pregnant women and people with health problems; pick l'excursion catamaran instead in these cases. Children under the age of 5 are not allowed.
Departure if the swell is 2m or under.
Payment methods: cash or checks , (no credit cards or holiday vouchers)
Map and Schedule
---
Meet up at 7:30 at The Saint-Francois Marina.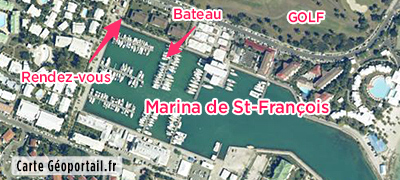 Schedule
Monday

7:30 - 17:00

Friday

7:30 - 17:00

Saturday

7:30 - 17:00

Sunday

7:30 - 17:00
Booking
---