Visit the Saintes alone with your skipper. Discover one of the world's most beautiful bays, as a family or between friends, setting off from Gosier. The extraordinary awaits!
Key points
---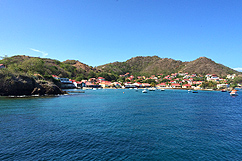 West Indian meal ordered from one of the island's restaurant
Private
Fast boat
The one which offers you a tour of both islands (Terre de Haut and Terre de Bas)
Activity details
---
Your adventure starts at 8:00. You will slide on the warm waters of the Caribbean for 45 minutes to get to the Saintes. You will set foot on Terre de Haut, it's magical, you are at the heart of the bay. Your crew will serve you a nice refreshment to welcome you before starting the tour of the island on the air-conditioned minibus.

Your guided tour will last an hour and will be followed by a free, hour-long tour of Terre de Haut. Take advantage of it to discover the town, the lovely shops, or choose to go for a dip in the Saintes' beautiful waters. You can also choose to climb up there and visit the Fort Napoléon (5€ entry fee). You will dive into memories of the past, and the heights will offer you a breathtaking view of the Saintes because you will be overlooking the entire bay.
Get on your speed boat to admire the coast, the nautical pathway that goes along the famous Pain de Sucre in the Saintes. Have a little dip before the meal where you will be comfortable on board the catamaran. This time, you will be heading for Terre de Bas with another minibus tour. Admire the wild landscapes and feel the idyllic peace of Terre de Bas. On top of all that, you will see unique landscapes during your trip between Grande Anse and Petite Anse.
Finish your adventure in style by enjoying the beach one last time, its warm and crystalline waters will delight you. Relax, you are in the Saintes, heaven on Earth!
Unfortunately, it is time to go back to get to Gosier at 17:30. You will love going to the Saintes in private, and you will only want one thing… to come back very quickly!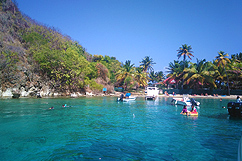 Summary of the day
7:45 Board at the Gosier marina
8:00 Departure
9:45 Arrival at Terre de Haut
Guided tour of the island (1h)
Swim and meal at Pain de Sucre
Swim and/or farniente after the meal
14:00 visit of the coast with a trip to Ilet à Cabrit
Guided tour of Terre de Bas
Departure at 16:30 to arrive at Gosier at 17:30
Included
---
Crossing to the Saintes
Unlimited drinks (water, juice, ti-punch, planteur)
Guided tours
Snack, West Indian meal
Fins, mask, and snorkel, pool noodle
What to bring
---
Beach towel
Spare clothes
Sunscreen (preferably organic)
Camera
Hat or cap
Small backpack
Additional information
---
A minimum of 6 adults is required to confirm the trip
Accepted payment method: cash
Map and Schedule
---
Meet up at 7h30 at Gosier Marina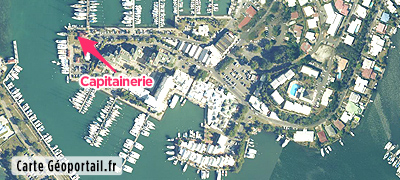 Schedule
Lundi 7:30 - 17:00
Mardi 7:30 - 17:00
Mercredi 7:30 - 17:00
Jeudi 7:30 - 17:00
Vebdredi 7:30 - 17:00
Samedi 7:30 - 17:00
Dimanche 7:30 - 17:00
Booking
---