With his 20 years of experience on the emerald-green waters of La Désirade, Nicard knows all of the best places to take full advantage of a trip to La Désirade that is full of discovery and activities. As well as showing you the best places of this heavenly island, Nicard will also show you the warm welcome of the inhabitants of La Désirade. In summary, it is a truly authentic trip that respects the environment (Nicard is a member of the Ti Tè association, which protects the Petite Terre nature reserve, run by the commune of la Désirade).
Key points
---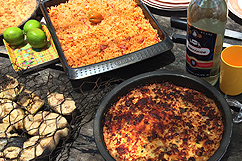 Authentic tour, far from the highly touristic paths
Traditional boat to truly create a great atmosphere
Warm and passionate guide
Information tour of the wildlife, the plants, and the heritage of the island
La Désirade style BBQ prepared with produce of the day
Plenty of activities that will delight children and adults alike
Activity details
---
Nicard is a fisherman who likes to take his time and to make his customers happy more than anything. With him,holidays are akin to restshe will make sure that you rest and that you can enjoy every moment that he has prepared for you. You will set off from Saint-François at 8:00 to get to the town of La Désirade at around 8:45 so you don't have to wake up at the crack of dawn. Nicard would have been happy to do the morning crossing with you, but the direction of the swell from St-François to La Désirade is too strong for your comfort to be guaranteed in his Saintoise. As a result, he will let you set off comfortably in the ferry that links the two islands and will welcome you at the la Désirade harbor.

You will meet up at the Saint-François ferry terminal at 7:30 to board the ferry that will safely take you to La Désirade. The tickets are prepared in advance and given to you at the counter of the terminal. You will then go along the magnificent coast of La Pointe des Châteaux at an ideal time to take some lovely photos.
After around 45 minutes on the water, you will set foot on La Désirade, where Nicard will welcome you with a beaming smile. Your joyous captain will introduce you to your guide for the guided tour of the island on a minibus. You will discover the beauty of the coast and the charisma of its inhabitants for about an hour. Please take note that you do not have to go on the guided tour if you would rather go to the Plage du Souffleur with Nicard, going along the coast - the price will be lowered by 10€. -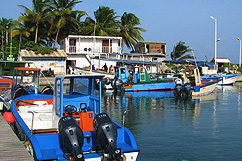 During your tour of the island, Nicard will go to the Plage du Souffleur to prepare a little surprise for you, a succulent barbecue with the region's best produce. When you get to this beach at around 10:15, Nicard will offer you a welcome drink consisting of fresh, refreshing fruits. He will then suggest several activities: kayaking on crystalline water, snorkeling to go and see the beauty of the sea beds, or trap fishing or angling for those who would like to try their luck.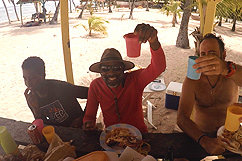 You will have an hour to an hour and a half to enjoy all of this, because everyone will be invited to the barbecue carefully prepared by Nicard at 12:00. Aperitifs with accras are on the menu to whet your appetite. You will then have a traditional meal that is as succulent as it is surprising, and that only Nicard has the recipe for. You will be served salad for the starter, then fish pie, grilled fish with banana gratin and madras rice for the main course. For dessert, you will get bananas cooked in sugar and lemon, then a nice coffee. Rest assured that Nicard will lift the mood up during the meal with his good spirits, his anecdotes, and his preparation methods so you can make these delicious meals yourselves at home.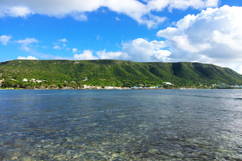 You will get to go for a dip or do farniente on the second half of the day, even if the more sporty people can go kayaking or have a little game of beach volleyball.
To top it all off, Nicard will prepare a delicious coconut sorbet for you in the most pure of creole traditions. He will take pleasure in sharing a few tips with you on how to prepare this frozen delight la Désirade style, and, as a treat, he will also teach you how to play Ka, a Guadeloupian tam tam.
The departure to Saint-François is planned for 16:00. Nicard will take you on his Saintoise. You will get to admire la Pointe des Châteaux once more, but in the sunset this time. The set of lights at this time gives you the perfect opportunity to take more amazing photos. You will arrive at Saint-François at around 17:00.
Included
---
Crossing from Saint-François to La Désirade
Tour of the coasts of La Désirade on a minibus
Welcome drink
Aperitif, meal, and drinks (fruit juice, rosé wine, rum, punch)
Snorkeling gear
Angling equipment
What to bring
---
Beach towel
Spare clothes
Hat, shades, and sunscreen
Additional information
---
At least

8 passenger required for this trip.

Up to

4 children allowed.

Book as early as possible to ensure you get the trip to La Désirade on the date that you would like.
Like every other speed boat trip, this trip is not recommended for pregnant women.
Accepted payment methods: cash or credit card (no checks or holiday vouchers).
Map and Schedule
---
Meet up at the Saint-François ferry terminal at 7:30.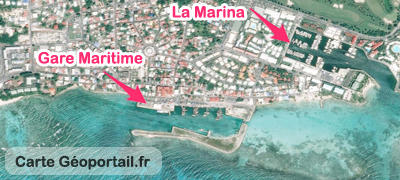 Schedule
Monday

7:30 - 17:00

Tuesday 7:30 - 17:00
Wednesday

7:30 - 17:00

Thursday 7:30 - 17:00
Friday

7:30 - 17:00

Saturday 7:30 - 17:00
Sunday

7:30 - 17:00
---