Nicard, who has been a fisherman for over 20 years, is an accomplished athlete, a volunteer for the Ti Tè association which aims to protect the nature reserve, and is passionate and engaging, will know how to make you have an amazing day at La Désirade, meeting up with the inhabitants of this little island that is unlike anything else. You will have the pleasure of sharing the best of the Caribbean culture with a small group on his brand new boat that is as colorful as he is.
Key points
---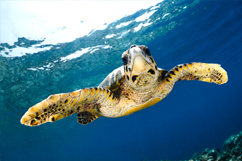 Skipper owned who is devoted to his customers and is happy to share his passions
New, light, and maneuverable boat
The skipper's experience (20 years as a fisherman)
Fish that he caught: always!
Local, home-made meal - pies/gratin/madras rice...
Petite Terre expert and volunteer at the Ti Tè association
Knowledge of la Désirade and its inhabitants
Athlete (windsurfing instructor)
Activity details
---
Your day with Nicard will start without haste. Even though most of the cruise ships will be rushing to get to the island of Petite Terre, Nicard prefers to welcome his guests at 7:45 to depart at around 8:00. According to him, a good day of vacation should not start in a rush, your entire day will follow that.

Your crossing to la Désirade will either be in a Saintoise, or with the ferry that separates the two islands if the sea is too rough, or if you would like to go on this trip with children. The saintoise is traditional fisherman's boat in Guadeloupe, and Nicard has one that is specially designed to comply with the strict passenger transport standards (NUC certification). His boat is recognizable because it is brand new and is fuchsia pink. The ferry, on the other hand, can hold up to 287 passengers and offers the possibility of going on the solarium on the upper deck during the 50-minute crossing. Therefore, you will be a lot more comfortable on the ferry for the only part of the trip that goes from Saint-François to la Désirade in case of moderate to rough seas, you will get to appreciate all of La Pointe des Châteaux's beauty without worrying about the sea state. You will then do the rest of the trip on Nicard's Saintoise, which offers guaranteed comfort for the trips from Désirade to Petite-Terre, and from Petite-Terre to Saint-François.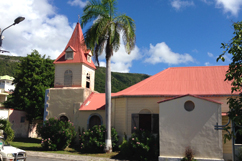 Once you have arrived at la Désirade, you will visit the town's main streets with Nicard and meet his many friends. The town of la Désirade is special in that it allows the visitors to quickly immerse themselves in the calmness of the locations. A quick walk through the plage à fifi followed by a quick visit of the local markets and features are on the agenda for the first hour of your visit on la Désirade soil. You will then get back on the boat to go along the coast up to the wonderful plage du souffleur with the whales that generally cruise offshore in the spring. You will then visit the island before you take full advantage of the sea for a heavenly swim between the turquoise blue lagoon and the Désirade plateau in the background. While Nicard is preparing the most succulent of barbecues, you will also be offered a tour of the island (length 1h30 - additional 10€), unless you would rather enjoy this marvelous beach, its lagoon, and its coconut grove to the fullest.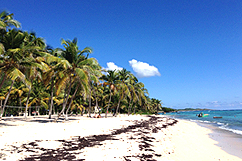 It will then be time to taste Nicard's home-made Punch, embellished by local anecdotes and cooking lessons, including a lesson on making fish pie, a pie that you will have the pleasure of tasting during the meal. This meal consists of a salad starter, followed by a pie and grilled fish with a side dish of banana gratin and madras rice. To top it all off, you will get bananas cooked in sugar/lemon for dessert. A coffee is also on the menu.
You will have a little bit of time while Nicard puts things away to enjoy the charm of the locations before going to the islets of Petite Terre at around 14:00/14:30. After arriving on the island after a 20- to 30-minute-long cruise, you will go snorkeling to meet the sea turtles that inhabit the lagoon of the reserve. You will also be able to see rays, lemon sharks, and barracudas on your hour-and-thirty-minute-long swim in the lagoon. Before leaving, Nicard will go near the buoy, where you will have the best chance of seeing dolphins. The trip back to the Saint-François will be your last chance to relax before returning to where your beautiful adventure started, delighted to have enjoyed a real day of vacation.
Summary of the day
Meet up at the fishing harbor at 7:30 to set off at 8:00
Arrive at la Désirade at 9:00
Visit of the town and meeting with its inhabitants (30-45 minutes)
Boat trip to the plage du souffleur (15 minutes)
Welcome drink and fresh fruit
Swim
11:30 aperitif
12:15 meal
13:30 swim and/or farniente/li>
14:00 Set off for a swim at Petite Terre
14:30 snorkeling and turtle watching
16:00 search for dolphins
16:40 / 17:00 arrival at Saint-François
Meal (wine included)
Aperitif - Cocktails with or without alcohol - Accras
Starter: tomato salad and fish pie
Main course: Grilled fish with a fish that he caught himself
Side dish: banana gratin and madras rice
Banana dessert with sugar/lemon
Coffee
Included
---
Crossing to Désirade and Petite Terre
Welcome drink and fresh fruit
Aperitif and home-made fish BBQ
Swimming - Snorkeling (fins, mask, and snorkel)
What to bring
---
Beach towel
Spare clothes
Sunscreen (preferably organic)
Camera
Hat
Additional information
---
A minimum of 8 people is needed for any departure to La Désirade. Book early in order for us to be able to accommodate you on the dates that you pick.
This activity is inappropriate for pregnant women and people with health problems.
Children are allowed on the ferry for the trip from Saint-François to La Désirade (exceptions can be made if the sea is calm).

In rough conditions, Nicard will decide whether it will be better to go on the ferry for the trip from Saint-François to La Désirade, you will get an e-mail the day before the trip.
Accepted payment methods: cash or credit card (no checks or holiday vouchers)
Map and Schedule
---
Meet up the fishing harbor gas station at 7:30.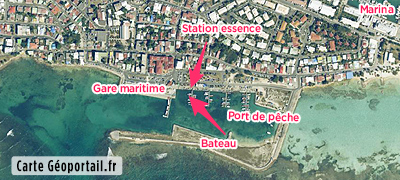 Horaires
Monday

7:30 - 17:00

Wednesday

7:30 - 17:00

Friday

7:30 - 17:00

Sunday

7:30 - 17:00
Other popular excursions with this boat
---
Poul'do - a stroll at la pointe des châteaux
Booking
---