The Butterfly will safely take you to two wonderful islands with its 3 300-horsepower engines. Your local guides, Max, Ronald, and Tanguy, are particularly considerate of and devoted to their customers. You will go to La Désirade for a tour that lasts an hour and a half and will taste a local BBQ meal on the beach. Then, in the beginning of the afternoon, the Petite Terre Nature Reserve awaits you with its giant open-air aquarium. A day full of wonderful and varied discoveries.
Key points
---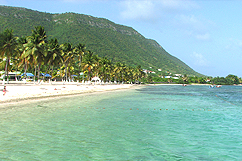 2 local guides (skipper included)
Stability and power of the boat (3 300-horsepower engines)
Cockpit that is protected against sea sprays
Local, home-made meal
2 trips in 1 (Désirade + Petite Terre)
Intimate and warm atmosphere
Flexible schedule
Crew that listens to its passengers
Safety
Activity details
---
You will board the Butterfly from 7:30. The highly motorized boat (3 300-horsepower engines) will safely take you to la Désirade. With its 100% Guadeloupean crew consisting of Max, Ronald, and Tanguy, you are in good hands to discover Guadeloupe during a day on 2 different and iconic islands of the archipelago. One of them is inhabited – La Désirade (1,631 inhabitants) – the other is a completely wild Nature Reserve that is inhabited… by iguanas only! (30,000)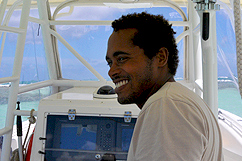 You will set foot on La Désirade at around 8:15 – 8:30 (half-hour to three quarters of an hour of sailing). You will arrive in the charming little fishing harbor in La Désirade. The fishermen there are renowned, and La Désirade has the highest number of fishermen in Guadeloupe.
Your botanist guide, Max, will come and get you to show you his native land for an hour and a half. You will be able to feed the iguanas… these completely harmless herbivores that have quite an impressive appearance. La Désirade was the first island seen by Christopher Columbus in 1493 and is one of the oldest plateaus in the Caribbean. This big, tabular rock is 145 million years old and goes back to when the dinosaurs were still around!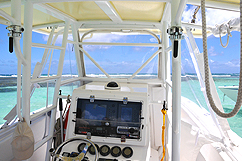 At the end of the morning, you will go back to the Beauséjour beach to have an aperitif on the beach and in the shade of a hut. Rum, planteur, rosé, local juices, sodas… all with pâté and fish rillettes. This will be followed by a local meal. For the starter, you will get banana salad and Caribbean cod chiquetaille. You will then be served a fish BBQ (kingfish, sea bream, blue shark… or chicken for those who don't like fish) with mixed rice. Bananas and coconut flan for dessert.
You are free to do farniente at the beginning of the afternoon. At around 14:00-14:30, you will set off to Petite Terre, which you will get to in 20 minutes at the boater side of the anchorage. Your crew will give you a little briefing about the Petite Terre Nature Reserve, which is a protected zone that is strictly regulated by the ONF. You can go for a swim and go to the coral reef to see the turtles, baby lemon sharks, rays, and other multicolored fish.
At 16:15, after that great dive in Petite Terre's open-air aquarium, it will be time to go back to Saint-François for 17:00. Your particularly attentive and caring crew will have largely contributed to the delight of your memorable day on these two islands.
Summary of the day
Board at 7:15 to set off at 7:30
Arrive at La Désirade at 8:15 – 8:30
9:00 Tour of the island
11:30 Aperitif
12:00 local BBQ on the beach, in the shade of a hut
Board at 14:00 – 14:30 for a swim at Petite Terre
16:15 Set off to arrive at Saint-François for 17:00 (3 quarters of an hour of sailing)
Included
---
Fuel
Aperitif, fish BBQ, and wines
Crossing to La Désirade and Petite Terre
Tour of la Désirade
Swim at Petite Terre
What to bring
---
Beach towel
Mask and snorkel (Or 5€/Equipment at the marina office)
Spare clothes
Sunscreen (preferably organic)
Camera
Hat
Additional information
---
A minimum of 8 people is needed for any departure to La Désirade. Book early in order for us to be able to accommodate you on the dates that you pick.
We do not recommend this excursion for elderly people or people who suffer from muscular or joint problems if the swell is over 0.5m. Considering the general direction of the waves, the trip to la Désirade can be considered to be sporty if the swell is over 1m. The trip from la Désirade to Petite Terre, as well the return trip to Saint-François are generally done in a better sea state.
Infant (depending on the weather) : 30€
Credit card and cash are the only accepted payment methods for this activity.
Map and Schedule
---
The rendez-vous point is located at the Saint-François marina, opposite the Wango café.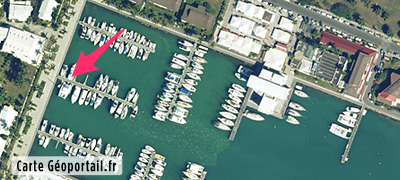 Schedule
Monday

7:00 - 17:00

Tuesday

7:00 - 17;00

Wednesday

7:00 - 17:00

Thursday

7:00 - 17:00

Friday

7:00 - 17:00

Saturday

7:00 - 17:00

Sunday

7:00 - 17:00
Booking
---