Choose to go on a tour with a small group to the Grand-Cul-de-Sac-Marin, at the heart of the islets, for a day or half-day. You will admire the big coral reef's sea beds and explore the shipwreck that many fish inhabit while snorkeling.
Key points
---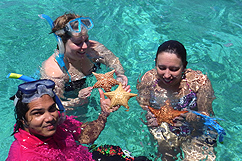 5 islet in the day
Certified crew (captain's certificate)
Comfortable boat equipped with a cover (shade screen)
Perfect knowledge of the mangrove
Home-made meal
Friendly atmosphere
Small group of 10 people maximum
Activity details
---

FULL DAY (mangrove and 5 islets):
Depart from the Ste Rose port at 8:30
Sail into the mangrove at the heart of which Marie France will share her knowledge of the ecosystem with you. You will stop at a cabin where you will be offered a refreshment (juice, planteur, rum, water) that you will get to drink with your feet in the water. You will then go to îlet Caret, where you will be able to go snorkeling, with the gear provided.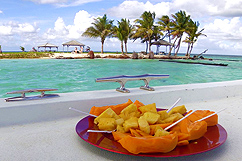 Next on the agenda are two swims: the exploration of a shipwreck and then you can watch the big coral reef's wildlife and plants, it is a real life-sized aquarium. That will be the moment to keep the memories of this wonderful spectacle that this great natural space will give you. You will finish your morning with a well-deserved stop at îlet la Biche, where you will be served a meal made especially for you by your captain.
The meal consists of: starter (creole sausage, accras, salad), main course (grilled fish, chicken upon request, vegetables gratin – papaya, pumpkin, bananas – depending on the season), dessert (platter of seasonal fruits – mango, bananas, papaya…) coffee and pousse-café. At the end of this succulent meal, you will head to îlet blanc and îlet aux oiseaux. You will stop to swim. You will be able to watch and discover many species (terns, pelicans, herons…).
You will arrive at 16:00, amazed by the day you will have just had.
HALF-DAY (Grand-Cul-de-Sac-Marin):
You will meet up at the Ste-Rose fishing harbor at either 8:45 or 12:45, depending on the time you chose. The departure for the half-day is planned for 9:00 or 13:00. You will head to the mangrove with detailed explanations about the ecosystem from your captain. You will then stop at îlet Caret. You will be served a snack (juice, planteur, water, accras, donuts, fruits) while your feet are in the water. You will go and explore the shipwreck and look for its inhabitants (multicolored fish, starfish, shellfish). Then, dive into the big coral reef, the snorkeling gear is provided.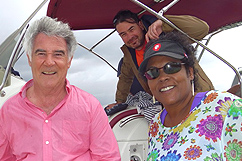 On the way back, you will be able to admire the îlet aux oiseaux and the many species that inhabit it. You will arrive at the harbor at 13:00 or 17:00 depending on the time you picked.
Included
---
Snorkeling equipment: mask and snorkel
Traditional Caribbean meal
Snack and drinks for the half-day
Unlimited drinks for the whole day
What to bring
---
Sun protection (sunscreen, hat, shades)
Swimsuit
Camera
Rain cape or raincoat in case of rain
Additional information
---
Whole day : Meet up at 8:15 – Departure at 8:30 – Return at 16:30 – Length 8:00.
Half-day : MORNING / Meet up at 8:45 – Departure at 9:00 – Return at 13:00 – Length 4:00.
AFTERNOON / Meet up at 12:45 – Departure at 13:00 – Return at 17:00 – Length 4:00.
Meeting place: Sainte-Rose fishing harbor.
Accepted payment methods before boarding: cash, debit card, holiday vouchers.
If the trip is cancelled because of bad weather, the trip will be rescheduled free of charge.
The trip will be guaranteed when at least 6 people have signed up for it
Map and Schedule
---
Schedule for the whole day: :
8:15: Boarding
8:30: Departure
16:30: Return
Schedule for the half-day::
8:45 (morning) / 12:45 (afternoon): Boarding
9:00 (morning) /13:00 (afternoon): Departure
13:00 (morning) /17:00 (afternoon): Return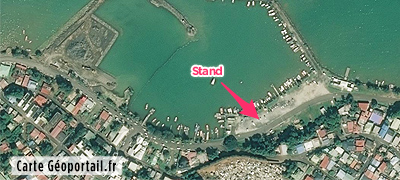 Booking
---