La visite de l'îlet Caret vous permet de découvrir les merveilles de la réserve naturelle du Grand Cul de Sac Marin. La visite commencera dès le départ du bateau, le voyage vers l'île de Caret regorge d'endroits intéressants à découvrir, dont certains sont classés réserves naturelles. Cette journée pleine de découvertes laissera encore place à la baignade et au farniente. Comme toujours avec notre skipper, vous aurez votre repas 5 étoiles après un apéritif avec les pieds dans l'eau.
Points clés
---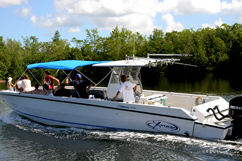 Quality of the meal
Intimate atmosphere
4 experienced skippers, 1 fisherman and fleet of speed boats
Knowledge of the Grand Cul de Sac Marin Reserve
Seniority of the crew (experience in the field)
Activity details
---
The îlet Caret is an uninhabited islet located in the Grand Cul de Sac marin and is about 250 meters long and about 20 meters wide on average. It was created by underwater movements due partly to earthquakes and to the wind and the sea. Every year, the islet changes shape, and certain sandbanks disappear and new ones take their place.
The excursion starts from the moment the boat leaves the harbor with a trip along the coast. You will see the Ste-Anne cliffs, the Petit Havre beach, the Rocher du Diamant (Diamond Rock) of Mare Gaillard, Gosier, and the Fort Fleur d'épées big bay, among other things.
You will get in the Petit Cul-de-Sac marin through the Rivière Salée, where you will discover the mangrove.
You will go through the Pointe à Pitre market on La Darse if the group asks to stop there (except on Sundays and holidays), and then go through the Grand Cul de Sac Marin.
You will go along the coral reef to get to îlet Fajou, where you will be able to go snorkeling, with fins, masks, and snorkels provided.
You will have a break to have your meal with your feet in the water at îlet de la Biche. This 5-star meal includes:
Starters: ceviche (fresh fish tartar marinated in limes) and salad;
Main course: fresh fish fillet (without bones) marinated in olive oil and cooked on the spot with a side dish of sauce chien (dog sauce) and creole rice or tabbouleh;
Dessert: flambéed bananas in rum.
Swim at Îlet Caret in the afternoon with a return planned for 17:00.
Included
---
Snorkeling gear (fins, mask, and snorkel)
Raincoat
Drinks and meal including fresh, home-made marinated fish
What to bring
---
Sun protection (sunscreen, hat, shades)
Camera
Additional information
---
The boat trip lasts about one hour without the stops. The departure from Saint François is at 7:45 and the one from Sainte-Anne is at 8:30. We ask our clients to arrive 20 to 30 minutes before the departure.
Map and Schedule
---
Excursion every day of the week in high season (December 15 – May 15).
Schedule:
From Saint-François: Meet up at 7:30 (transfer to Ste-anne takes 30 min)
From Sainte-Anne: Meet up at 8:15
From Gosier: Meet up at 9:00
Depart at 8:30 from Sainte-Anne to îlet Caret
Visit of the coast up to îlet Gosier
Discovery of the Pointe à Pitre market (except Sundays and holidays)
Crossing of the Rivière Salée
Walk on the coral reef and swim
Meal at îlet de la Biche
Swim in îlet Caret
Return to Sainte-Anne and St-François for 17:00
Boarding at St-François is done at the dock located opposite the quai17 restaurant (meet up at 7:30). Boarding at Sainte Anne is done at the little fishing harbor opposite the craft market at the entrance of the city coming from Gosier (meet up at 8:15). Boarding at Gosier takes places at the waterside of the Gosier/PAP harbor office (meet up at 9:00).
Final payment to be done by check, holiday voucher, cash, or credit card at St-François. Credit cards are not accepted at Sainte-Anne or Gosier. Cash (you must pay the exact amount), checks, or holiday vouchers.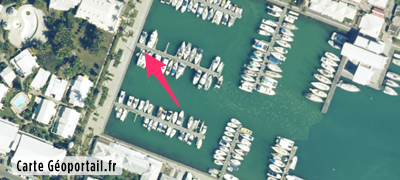 Schedule
Le lundi

: de 7h30 à 8h15 et de 17h00 à 17h00

Le mardi

: de 7h30 à 8h15 et de 17h00 à 17h00

Le mercredi

: de 7h30 à 8h15 et de 17h00 à 17h00

Le jeudi

: de 7h30 à 8h15 et de 17h00 à 17h00

Le vendredi

: de 7h30 à 8h15 et de 17h00 à 17h00

Le samedi de

7h30 à 8h15 et de 17h00 à 17h00

Le dimanche

: de 7h30 à 8h15 et de 17h00 à 17h00
Réservation
---