Embark on an all-inclusive day of ecotourism including a creole meal on the 100% ecological, 20-passenger electric boat. It's very comfortable, spacious, and only propelled by solar energy, and you will look at the wild animals, the plants, the islets, and the mangrove in complete silence. You will get to look at the specimens described by your guide up close during your frequent snorkeling stops.
Key points
---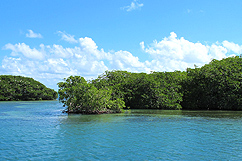 Ecotourism guide
Educational, fun, and cultural information
The crew's 10 years of experience
The crew's involvement in the environment (ONF, National Park)
Professionalism and safety
Spacious and comfortable boat with large, shaded cabin
Enthusiastic atmosphere
Prices
Toilet on board
Activity details
---
Meet up for boarding at the Sainte-Rose harbor at 7:45. After getting some safety instructions and information about how the trip is going to go, we set off at 8:00. We will sail and go up the Grand-Cul-de-Sac-Marin to get to Ilet Caret, a small, charming confetti of coral that is doomed to disappear from natural erosion. You can either go snorkeling or do farniente at your convenience. You will then head to the 23-kilometer-long coral located in the marine reserve. Your ecotourism guide will explain everything about the complex ecosystem of this immense, fragile lagoon, a part of which is also a nature reserve, in a fun and educational way during the trip and all day long.

Once you have arrived at the coral reef, your guide will take you to the heart of it for a snorkeling dive (gear provided) so you can watch the wildlife and the corals.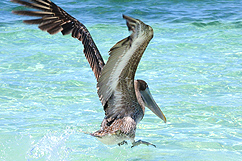 At around 11:00, we will set off to the Fajou reserve. You will get to have a dip there and discover the red and black mangroves, which set the surrounding mangrove apart from the others, during the guided tour. You will also get to watch the location's wildlife, oysters, crabs, sea cucumbers, small lemon sharks (nursery site), turtles, starfish, and take pictures of pelicans that are hunting. You can also rest on a lovely little preserved beach. It will then be time to have your aperitif followed by a creole meal served on the boat, to keep the nature intact.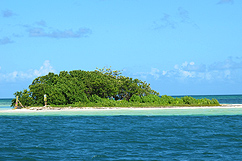 At around 14:30, your guide will offer to take you to the mangrove to discover it and understand how the mangroves adapt so well to their particularly hostile saline environment. We will then stop at the Carénage islets, which are entirely made of red mangroves, with their aerial roots anchored in the mud and at the salty water, and then go to ilet Blanc, the access to which is forbidden for a part of the year while the terns breed. There is also a planned stop at Ilet aux oiseaux so you can watch the egrets, herons, frigatebirds, and pelicans. After a day full of beautiful discoveries, you will go back to the Sainte-Rose harbor tired but completely satisfied and happy at around 16:30.
Summary of the day: :
Meet up at the Sainte Rose harbor at 7:45
8:00 Departure
Sail up to the coral reef - Snorkeling
Ilet Caret – Swim, snorkeling, farniente
11:00 Ilet Fajou - Aperitif and meal - Relaxation
14:30 Tour of the mangrove
Islands - Ilet Blanc - Ilet aux oiseaux
16:30 Arrival at the Sainte-Rose harbor
Local meal : aperitif, salad starter, coconut chicken or chicken Colombo, basmati rice. For dessert: TAONABA bananas (dark chocolate, rum, and whipped cream). Drinks: Planteur, Ti'punch, juice, water, red wine, and rosé.
Included
---
Transport
Snorkeling gear (Fins, mask, and snorkel)
Guided tour with explanations from a professional ecotourism guide
Aperitif and meal
Unlimited drinks during the day
What to bring
---
Spare clothes
Shades
Sunscreen (preferably organic)
Camera
Hat or cap
Raincoat in case of rain or sea sprays
Additional information
---
Accepted payment methods: check, holiday voucher, and cash.
Map and Schedule
---
Meet up at the Sainte-Rose harbor at 7:45. Depart at 8:00. Return at around 16:30.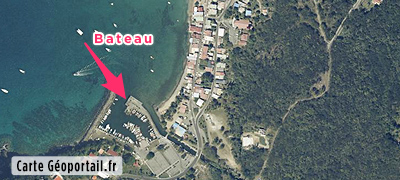 Schedule
Monday

7:45 - 16:30

Tuesday

7:45 - 16:30

Wednesday

7:45 - 16:30

Thursday

7:45 - 16:30

Friday

7:45 - 16:30

Saturday

7:45 - 16:30

Sunday

7:45 - 16:30
Booking
---