There is nothing better than a catamaran to glide across the Grand-Cul-de-Sac-Marin's turquoise waters. Embark on an all-inclusive dream day with a meal on board the catamaran in groups of up to 20 passengers.
Key points
---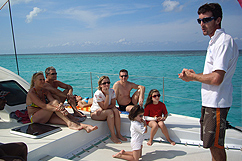 Safety, well-being, and comfort
Peaceful navigation guaranteed (no seasickness)
Welcoming and friendly crew
Meal served on board, in the shade
Small group (20 passengers maximum)
Transport to hotels is possible
Excursion every day of the week
Activity details
---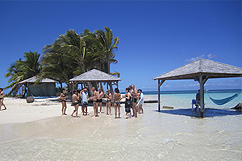 We will meet up with you at 8:30 every morning for a lovely day on our sailing catamaran. Once the sails have been hoisted, we are off for a day of total relaxation on the peaceful and crystalline waters of the Grand-Cul-de-Sac-Marin. Sailing is ideal to discover the location's wonders in nature's silence. Your skipper and his hostess will take pleasure in teaching you how to sail.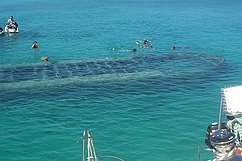 Take advantage of the sunbaths at the front of the boat made out of nets on which it is very comfortable to lay. Whether you are in the sun or in the shade of the sails, you will like how the boat slides across the water. Shaded benches at the back of the boat welcome you to have a little chat near the bar, where you can serve yourself a little drink: coffee, tea, mineral water, fruit juice.
After an hour of sailing, you will have the pleasure of diving in a shipwreck that we stop near to, so you can go and watch the tropical fish up close. Majestic sensations and strong emotions guaranteed. We will then stop at the Îlet Caret for an aperitif with our feet in the water and a break on white sand.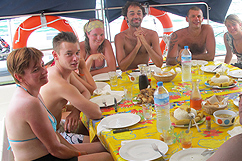 We will then set sail again to the Îlet Fajou Nature Reserve for a typical local meal served on board the catamaran: marlin rillettes and green salad, followed by a typical chicken with sauce chien (dog sauce) with rice and plantain bananas. For dessert, you will be served fresh seasonal fruit with coffee. The drinks you can have with your meal are water, red wine, or rosé.
You will be able to rest or dive in the coral reef, or even go on a canoe trip in this idyllic setting. Finally, your crew tends to your every need all day, will take you back safely in peace and in the warmth of the Caribbean afternoons. In summary, it is a memorable boat trip.
Included
---
Drinks provided all day
Meal on board
Fins, masks, and snorkels
Pool noodles and canoes
What to bring
---
Bathing suit and towel
Sunscreen (preferably biodegradable)
Shades
Cap / hat
Long-sleeved t-shirt for the return trip at the end of the afternoon.
Additional information
---
Accepted payment methods before boarding: cash, checks, holiday vouchers (no credit cards)
We advise that you book a week in advance
Map and Schedule
---
Schedule: :
Board at 8:30
One-hour sail to the shipwreck
Swim, snorkeling
15 minutes of sailing
Aperitif on the îlet Caret
15 minutes of sailing
Meal on board the catamaran in the heart of the Fajou Nature Reserve
Swim and snorkeling in the coral reef, sunbathing on the nets, canoe….
Departure from Fajou at around 16:00/16:30 to return at around 17:00/17:30
The boat is located at the Baie-Mahault fishing harbor.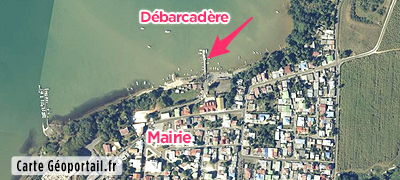 Schedule
Monday

8:30 - 17:30

Tuesday

8:30 - 17:30

Wednesday

8:30 - 17:30

Thursday

8:30 - 17:30

Friday

8:30 - 17:30

Saturday

8:30 - 17:30

Sunday

8:30 - 17:30
Booking
---