Bruno of the Xtrem crew, a professional fisherman like his father, will take you straight to the best fishing spots in the region. You will be able to trollfish, jig fish, or fish with fish aggregating devices. In groups of 4 fishermen, you will set sail for a day of sport fishing that is as physical as it is technical. High-tech equipment will be provided to make sure you get a good catch.
Key points
---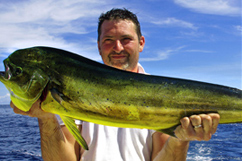 Experience of the captain, who is a fisherman like his father
Quickness to get to the fishing spots
Perfect knowledge of the locations and marine environment
Relaxed, friendly atmosphere and teamwork
Activity details
---
Bruno and his vast experience of the sea and fishing make him the best person to make you (re)discover this discipline or improve in this thrilling and captivating sport. This activity – a subtle mix of hide and seek with nature and physical and technical sport – will know how to charm you if you are a novice. The Xtrem crew offers you this fishing trip on board their 2 boats. Both boats are equipped with 2 powerful, 225-horsepower engines, which make them maneuverable for some good games of fishing. You will meet up at 5:30 to set off at 6:00.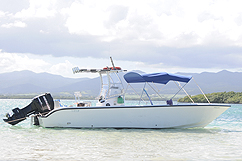 A minimum of 4 fishermen is needed for this activity; up to 5 fishermen can take part at a time. You can trollfish, jig fish (vertical fishing), or fish with fish aggregating devices (drift fishing) for yellowfin tuna, mackerels, sailfish, wahoos, mahi-mahis, blue marlins, groupers, dentexes, and caranxes can all be fished in the seas of Guadeloupe… there are lots of things to keep you happy in the Caribbean Sea. Big-game fishing is a collective experience. With the Xtrem crew, you are guaranteed to spend a friendly day full of discovery. It is important to know that between January and March, the trade winds can sometimes make the sea rough (4-5 beaufort winds and swells and possibly sea sprays).
The return trip at the beginning of the afternoon is normally planned for 14:00, with the possibility of carrying on until up to 17:00 in the evening, depending on how the day has gone, each person's fatigue levels, the catches, and your wishes. Be careful, once you have tasted the thrill of big-game fishing, you run the risk of getting addicted to this physical and entertaining sport.
Included
---
Fishing equipment (Rods, bait, lures)
Snack: casse-croute (sandwich) and drinks (water, wine, fruit juice)
Raincoat
Freshwater shower possible
What to bring
---
High-factor sun screen and long clothes (ex: long sleeves)
Spare clothes (possibility of sea sprays)
Hat or cap that covers a lot of your head
Shades
Additional information
---
Lowest number of fishermen: 4, highest: 5. Book early in order for us to be able to accommodate you on the dates that you pick.
Tell Bruno what you would like on your fishing trip, he will listen to your wishes. In general, the meet-up time is 5:30 so you can set off at 6:00. The return trip is planned for around 14:00 but can be moved to 17:00 depending on the fishing and how the day goes.
Map and Schedule
---
The rendezvous point is located at the Saint-François marina, on the "Le Quai 17" restaurant's terrace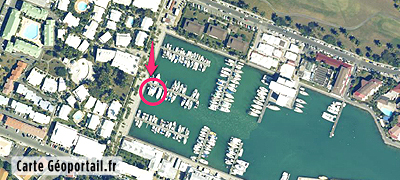 Schedule
Monday

5:30 - 14:00/17:00

Tuesday

5:30 - 14:00/17:00

Wednesday

5:30 - 14:00/17:00

Thursday

5:30 - 14:00/17:00

Friday

5:30 - 14:00/17:00

Saturday

5:30 - 14:00/17:00

Sunday

5:30 - 14:00/17:00
Booking
---