Go and discover the mangrove and the Grand Cul de Sac marin, which is a nature reserve and exceptional location in Guadeloupe for its unique and protected wildlife and plants, for half a day. You will glide along the water in groups of 4 people per boat and go up the rivière Moustique at the heart of the red mangroves with extraordinary roots. Your trip is educational and with an experienced and passionate guide. You will go snorkeling in the coral reef. You will then get to lie on the white sand of one the heavenly islets. A very original morning or afternoon that is also full of wonders and exceptional natural discoveries.
Key points
---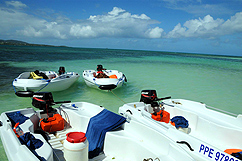 Original and authentic trip
Vast knowledge of the marine environment and the mangrove
Educational trip
Boats adapted to the places that will be visited
Safe sailing in the grand cul-de-sac marin lagoon
All equipment provided (fins, mask, snorkel, and waterproof bags)
Bilingual guide (French/English) who listens to his customers
Half-day packages that make the most out of the time and money spent
What the customers are saying
---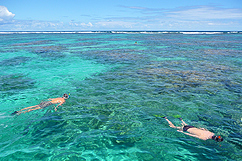 "You must do this as a family!"
"A wonderful landscape, perfect explanations with a nature aficionado who is extremely calm!"
"DO NOT MISS THIS TRIP, it is just extraordinary!!!"
"A passionate and exciting guide who is a goldmine of information and who knows to handle small and bigger children."
"Simply amazing, just like on the postcards, except for real this time!!"
"By far the most beautiful trip of our journey, it was very enriching"
"An unforgettable time!!! Thank you for this amazing afternoon."
Activity details
---
Do the mangrove and sea beds attract you? You are right! Go out for the morning or afternoon and discover the unique red mangroves with their unusual aerial roots that are strangely planted in the water. The Grand Cul de Sac Marin, a part of which is a classified nature reserve by the Guadeloupe National Park, awaits you with all of its unique wildlife and plants.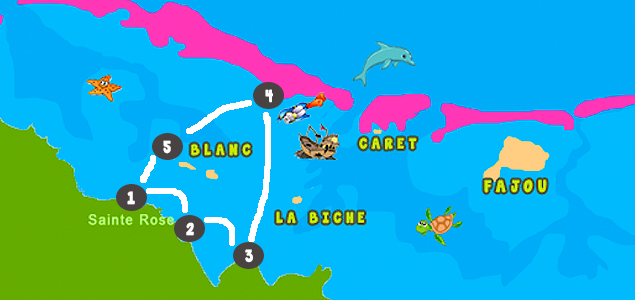 1- Start of the trip from Sainte-Rose
2- Exploration of the mangrove
3- Discovery of the rivière Moustique
4- Snorkeling in the coral reef
5- Stop on a heavenly islet (Ilet blanc or ilet la biche)
You choose to board at Sainte-Rose at either 8:30 to set off at 9:00, or in the afternoon at 13:15 to set off at 13:30. With your professional and passionate guide, who will explain every feature of each island, you will go up the rivière moustique and discover this original and authentic nature. After going through Guadeloupe's tropical forest at around 10:15 or 10:45, you will be at the coral reef, and the only thing left to do will be to go snorkeling in the Grand Cul de Sac Marin's giant open-air aquarium, with gear provided.
At the end of the morning at around 11:30 or at the end of the afternoon at around 16:00, you will be able to relax and do farniente on one of the many white san islets in the GCSM, such as îlet Blanc or îlet La Biche. You will be served a cocktail in a very friendly atmosphere, only as we know how in Guadeloupe. You will return to Sainte-Rose at around 13:00 or 17:30 with stars in your eyes and the rest of the day or evening to dream.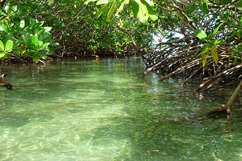 Summary of the half-day
Board at 8:30 (13:15) to set off at 9:00 (13:30)
Tour of the mangrove
Swim and snorkeling in the coral reef at 10:15 (14:45)
Farniente on ilet la biche or ilet blanc, 2 lovely white sand islets, at 11:30 (16:00)
Cocktail at the end of the trip
Return to Sainte Rose for 13:00 (17:30)
Included
---
Fuel
Fins, mask, and snorkel
Waterproof bags
Guided tour
Cocktail
What to bring
---
Beach towel
Sunscreen (preferably organic)
Camera
Hat, cap
Spare or warmer clothes (in case of rain)
Additional information
---
There needs to be at least 6 people for any departure. Book early in order for us to be able to accommodate you on the dates that you pick.
Children that are at least 3 year old and pregnant women are allowed to go on this trip IN NICE WEATHER.
4 adults maximum per boat.
Map and Schedule
---
The rendezvous point is at the Sainte Rose marina, following the path that takes you to the fishing harbor, about 100m to the right from the marina's main dock.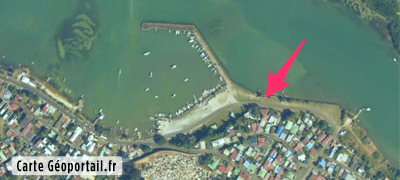 Schedule
Tuesday 8:30 - 17:30
Wednesday 8:30 - 17:30
thursday 8:30 - 17:30
Friday 8:30 - 17:30
Saturday 8:30 - 17:30
Sunday 8:30 - 17:30
Booking
---
Image Gallery