Discover the West indies' most vast lagoon and six thousand hectares of mangrove on board Guadeloupe's ecological boat with your family or friends. This magnificent and outstanding lagoon, this forest swamped with emerging roots offers an extraordinary spectacle and shelters amazing wildlife and plants. A wonderful and emotion-filled day awaits!
Based in Grande Terre, in Vieux-Bourg near Morne-à-l'eau, you will set off on a day of discovery along the water. You will be sailing on emerald green or turquoise waters all day in the peace and quiet of the wild. Jannick and her electric boat, which is the only one in Guadeloupe, will be able to share her passion of these magical and mysterious locations with you.
Key points
---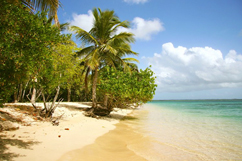 A professional, cheerful, and passionate host who cares about the well-being of her passengers
Activity that is open for all
A comfortable and silent boat
A family atmosphere with stops so you can go swimming or relax with a floating aperitif
Activity details
---
The archipelago of Guadeloupe is full of beautiful natural treasures. The mangrove and lagoon in the Grand-Cul-de-Sac-Marin are among those treasures. Discover this fragile ecosystem, this environmental heritage that is classed as a nature reserve by Unesco, on board the only ecological boat in this part of Guadeloupe.
Your boat, propelled by electric engines, slides silently on the water of the Grand-Cul-de-Sac-Marin. This boat is unique in Guadeloupe, does not produce any contaminants, and contributes to the respect of the wild and the environment.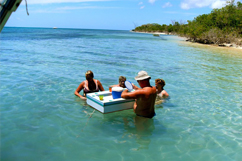 The time you spend on board combines happiness, discovery, pleasure, peace, and ecology. Ecotourism does not exclude comfort, the boat is clean, comfortable, and the service is high-quality, with decorations, high-quality saddlery, porcelain dishes, sophisticated details, a floating bar, and fins, masks, and snorkels provided with binoculars to watch the wildlife...
All of this helps you have a perfect day of relaxation in osmosis with this little piece of heaven. This excursion is offered because of our desire to make you discover an unknown, yet exceptional part of Guadeloupe, while respecting the environment.
Schedule:
Depart from the Vieux-Bourg harbor at 10:00 (be there for boarding at 9:45)
Guided tour of the Mangrove
Approach the wildlife and plants
Swim in high seas
Head for the Pointe Sable, a white-sand beach opposite the lagoon
Barbecue, floating bar, and aperitif
Meal on board the boat
Farniente, relaxation, and swim
Tour of the ilet aux oiseaux, discovery of the wildlife
Return trip with the sunset
Arrive at the port at 17:30-18:00
Included
---
Boat rental for 8 people maximum
Your guide
Meals and drinks served on board
The equipment on board (floating bar, crockery, fins, snorkels, hammocks, binoculars…)
What to bring
---
Hat, cap Beware of sunburns!
Shades
Sunscreen
Swimsuit
Spare clothes
Additional information
---
100% electric, 100% ecological, 100% comfort.
There needs to be at least 2 people for an excursion
Boarding is at 9:45
The only accepted payment methods when boarding are cash and checks.
Map and Schedule
---
Excursion every day except Monday
Meet up at the Vieux Bourg harbor at 9:45 to set off at 10:00 – Return at 18:00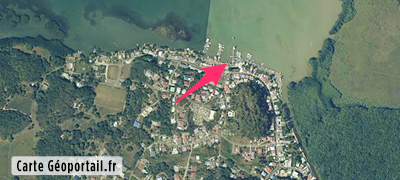 Schedule
Tuesday

10:00 - 18:00

Wednesday

10:00 - 18:00

Thursday

10:00 - 18:00

Friday

10:00 - 18:00

Saturday

10:00 - 18:00

Sunday

10:00 - 18:00
Booking
---