Nicard offers you morning and afternoon trips on the sea that last several hours with his traditional Saintoise, the "Pouldo," which is approved to transport passengers. You will go up the coast from the town of Saint-François up to la Pointe des Châteaux and throw your reels to try your hand at fishing, or Nicard will show you trapping. He will take you to the whales road during the season (February – April). You will finish with a swim and a snack in the lagoon.
Key points
---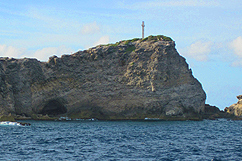 Skipper owner who is devoted to his customers and happy to share his passions
New, light, and maneuverable boat
The skipper's experience (he has been a fisherman for 20 years)
Unique activity of discovery in Guadeloupe
Activity details
---
Nicard, skipper and owner of an amazing saintoise (traditional boat), the "Pouldo," offers you a unique activity in Guadeloupe, boat trips in the morning (8:30) or afternoon (14:00) that last 2 hours and 30 minutes.

You will go up the south-eastern coast of Guadeloupe, from the Saint-François fishing harbor to the wonderful and renowned Pointe des Châteaux. You will be able to take part in lifting up a trap or an angling game.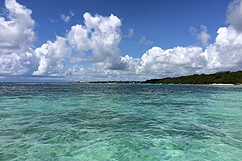 You will be able to take advantage of your host's know-how, as he is an accomplished athlete and has been a fisherman for more than 20 years, all while enjoying his legendary sense of humor, a perfect image of a Guadeloupian welcome. With Nicard, you will learn a lot about Guadeloupe and the rich and vibrant creole culture.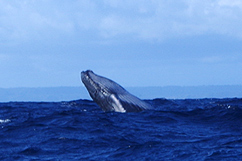 During the cetaceans' mating season, between February and April, Nicard will look for the whales so you can watch them from the boat. For that, he will take the path called "the whale's path." You will finish your trip with a meal or snack on a little shoal at the heart of the St-François lagoon. Prepare yourself for a unique half-day during which you will surely take the most beautiful pictures of your vacation!
Summary of the half-day
Meet up at the fishing harbor at 8:15 or 13:45 to set off at 8:30 or 14:00
Trip along the coast
Trapping or angling
Watch the whales during mating season (February – April)
Swim and meal in the Saint-François lagoon
11:00 or 16:30: return to the Saint-François fishing harbor
Included
---
Transport
Fishing gear
Meal or snack
Swim - Snorkeling (fins, mask, and snorkel)
What to bring
---
Beach towel
Spare clothes
Shades
Sunscreen (preferably organic)
Camera
Hat or cap
Additional information
---
A minimum of 5 people is needed for any departure. Book early in order for us to be able to accommodate you on the dates that you pick.
This activity is inappropriate for pregnant women and people with health problems. ICIGO also discourages children under the age of 8 to do this between December and April unless the conditions are favorable.
Children are allowed from the age of 6
Departure if the swell is 2m or below.
Accepted payment methods: cash or credit card (no checks or holiday vouchers)
Map and Schedule
---
Meet up at 8:15 and 13:45 at the gas station at the Saint-François fishing harbor.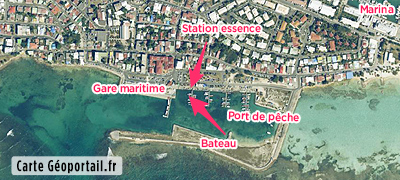 Schedule
Tuesday

8:15 - 13:45

Thursday

8:15 - 13:45

Saturday

8:15 - 13:45
Others tours with this boat
---
Booking
---