Discover the biggest lagoon in the Caribbean while having West indian party. Get on board the King Papyrus, Gosier's party boat. You will be in an idyllic setting on an extremely stable boat and in the comfort of a real floating lounge. You will get to dance to the Caribbean rhythms while discovering the surroundings with detailed explanations from your guide and DJ, Laurent. Dancing, swimming, music, meal and an open bar are on the schedule for a day of festivities with your feet in the water.
Key points
---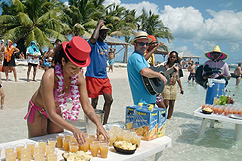 Festive and good-natured atmosphere
Dance at your convenience all day long on the dance floor
Guided tour by your guide, Laurent
Comfort of a floating lounge
Shaded upper deck
A Guadeloupean institution with 35 years of experience
A local and loyal clientele
Warm, general, smiling, and available staff
Open bar
Varied music: Zouk, Retro Zouk, Compas, Salsa, Tango, Rock…
Activity details
---
Meet up at the office at 8:15 to set off from the Gosier marina at 8:45. Adeline and her warm crew, your captain Jérôme, your guide, host, and DJ Laurent, and all of the others, your hosts Marjorie and Aloïs will happily welcome you in good spirits. Your guide will provide explanations of the natural and historic locations that you will see during the tour: the Mémorial Acte, the Pointe à Pitre market, the Rivière Salée… At around 10:00, you will be offered a welcome drink with or without alcohol (fresh fruit juice, Planteur, Ti-punch), as well as some sandwiches, as is the tradition here in the Caribbean.

You will then sail towards the heart of the Grand-Cul-de-Sac-Marin's nature reserve for about an hour and half, with explanations of the mangrove's wildlife and plants.
As you approach the biggest coral reef in the West indian (25 kilometers long), you will be offered a lesson in Caribbean dancing styles (Kuduro, Biguine, Zouk…) if you are not already on the dance floor, because on this festively-colored party boat, you are invited to dance from the start!
You will finally see the little piece of heaven that is Ilet Caret. You will be invited to get off the boat from the gangway at the back of the boat to go snorkeling (gear not provided) or simply admire the surroundings of this little sand spit. You can stay on the boat if you want. Expect to stay on the islet, which has no more shade because of the natural erosion caused by the strong currents, for an hour. The crew will offer you an aperitif while your feet are in the sand, listening to live music. A treasure hunt can be organized depending on the day. Return to the Gosier marina for 16:15.

Meal on board:
Salad (cucumber, carrots etc…) and egg mayonnaise starter
Delicious Caribbean chicken with creole sauce, saffron rice, and small vegetables
Fresh fruit cocktail served buffet style or fruit tart (depending on the trips) for dessert
Red wine - Coffee – Old rum (serve yourself)
Included
---
Open bar all day
Happiness, smiles, and good spirits
Sandwich in the morning
400g lobster (additional 35€), lamb, or fish (additional 5€)
What to bring
---
Sun protection (sunscreen, hat, shades)
Snorkeling gear (Fins, mask, and snorkel)
Spare clothes
Camera
Good spirits, but they are not necessary for the departure as you will get them as you set off!
Additional information
---
A minimum number of participants is needed to guarantee that the trip will happen. If that number is not reached, the departures during the week can be grouped together for the next Saturday or Sunday (you will be told in advance, or you will get a full refund of your deposit if you cannot reschedule your trip).
Accepted payment methods: credit card, check, holiday voucher, and cash.
Map and Schedule
---
Trips on Tuesdays, Thursdays, Saturdays, Sundays, and public day.
Boarding takes place at the Gosier marina, just opposite the bateau mouche's office, where you will pay for your booking. Please be at the office 30 minutes before departing.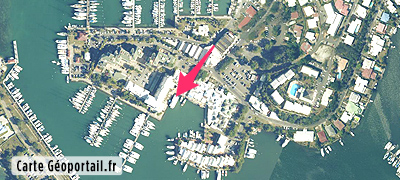 Schedule
Tuesday 8:15 - 16:15
Thursday 8:15 - 16:15
Saturday 8:15 - 16:15
Sunday 8:15 - 16:15
Public holiday 8:15 - 16:15
Booking
---