Jean-François, a real professional, and his speed boat (3x250 horsepower), which is always impeccably clean and thoroughly maintained, will safely guide you to Petite Terre in 45 minutes maximum. You will be very amazed upon arrival because the island is so much magnificent. You will be delighted by the Flora and Fauna throughout the day. Jean-François will invite you for an aperitif followed by his local, home-made BBQ meal at the end of the morning. That is going to be a successful day.
Key points
---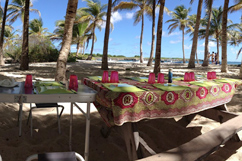 Quality meal served on a nice tablecloth
Skipper-owner concerned about his customers
New and Speed boat (3x250 horsepower)
Safety and comfort of the crossing
Atmosphere in a small group (12 passengers)
Skipper's experience
Activity details
---
Jean-François and his comfortable, speed, and elegant "Big Game" boat will take you to the Petite Terre nature reserve in 45 minutes maximum for a magical day. Depending on the season, you might cross paths will dolphins and/or humpback whales, which you can generally see from February to April, during round trip crossings.

You will be very amazed from the moment you arrive on the island because the landscape is shining with beauty. In the morning, as well as the afternoon, you organize your activities to discover the island depending on your preferences; you can either go snorkeling in the coral reef (fins, mask, and tuba provided), or stay on land and go on a tour which will take you to the lighthouse in which a little museum awaits you. You are also allowed to not do anything! For the curious people, the Fauna and Flora will enchant you in their respective environment: coral fish, turtles, rays, (baby) lemon sharks, iguanas (10,000 of them) etc…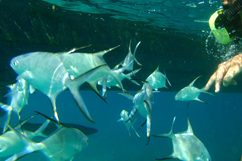 During this time, Jean-François, a renowned professional, will carefully set your table with extensions so that you will definitely have enough room. When you come back from your stroll or from snorkeling at around 11:30, he will offer you his aperitif (fruit juice, punch), then his local, home-made meal (creole salad starter, grilled fish steak, creole rice or vegetable gratin, and either flambéed bananas or skewered fruit to finish). Your host, whose good mood is contagious, will always be ready to answer your questions about the history and features of the premises (but not about the recipe for his punch!).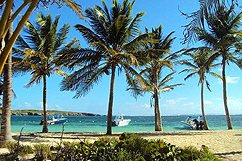 A little word of advice, talk about deep-sea fishing, and you will discover what a passionate man he is! Who knows, he might make you want to follow him for an exciting day of marlin fishing, and you will then have another reason to spend another day with Jeff…
Summary of the day
8:00: Set off from the St François Marina
8:45: Arrival at Petite Terre, discovery of the island, lagoon, and land as you wish
11:30: Aperitif upon request (Fruit juice and punch)
12:30: Meal, creole salad, grilled fish steaks, creole rice or vegetable gratin. Flambéed bananas or fresh skewered fruit
14:00: in the afternoon, the Big Game crew will still be there to guide you in the discovery of Petite Terre's nature reserve
16:30: Return to Saint-François
17:15: Arrival at the Saint-François Marina
Included
---
Crossing to Petite Terre
Aperitif and BBQ, drinks
Tips for discovering the island
Free tour of Petite Terre
Swim - snorkeling (fins, mask, and snorkel provided)
What to bring
---
Swimsuit, beach towel
Spare clothes
Sunscreen (preferably organic)
Camera
Hat, cap
Additional information
---
A minimum of 10 passengers is needed for any departure to Petite Terre. Book early in order for us to be able to accommodate you on the dates that you pick.
This activity isinappropriate for pregnant women and people with health problems; pick l'excursion catamaran instead in these cases. ICIGO also discourages children under the age of 8 to do this between December and April unless the conditions are favorable.
Children are allowed if they are at least 3 years old, depending on sea and weather conditions.
Departure if the swell is 2m or under.
Methods of paying on the morning that you board: credit card, cash, checks
Map and Schedule
---
Meet up at 7:15 in the heart of the Saint-François marina, in front of "Le Wango" restaurant. If necessary, ask for the "Big Game."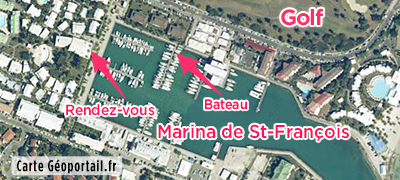 Schedule
Monday 7:15 - 17:15
Tuesday 7:15 - 17:15
Wednesday 7:15 - 17:15
Thursday 7:15 - 17:15
Friday 7:15 - 17:15
Booking
---