Vous êtes en croisière et vous voulez mettre pieds à terre pour découvrir le pays Guadeloupe. Bienvenu pour une 1/2 journée d'immersion en Nord Basse-Terre. Votre guide vous conduit au cœur du pays authentique. Visite d'un port typique, découverte d'une des plages magnifiques, voyage au cœur de la faune et de la flore, baignade en cascades.
La Basse Terre c'est la Guadeloupe typique ! Loin du tourisme de masse, Basse-Terre brille par ses plages grandioses de sable blanc ou noir. Ses paysages vert intense, sa végétation luxuriante et ses fonds marins exceptionnels vous émerveilleront. Votre guide professionnel vous fera découvrir l'île de l'intérieur. Port de pêche authentique, faune, flore, culture, anecdotes, histoire, baignade en cascades. Vous rencontrerez aussi la chaleur et la bonne humeur de la population guadeloupéenne.
Points forts
---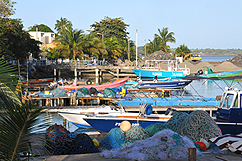 Guide locale
Accueil et prise en charge
Sécurité
Sourire et bonne humeur assurés
Convivialité et professionnalisme
Générosité et grande disponibilité
Ambiance décontractée
Confort
Tarifs
Détail de l'activité
---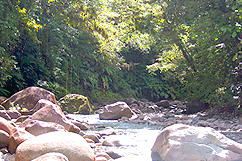 Your guide will be available to answer all of your practical questions. The rendezvous is at 8:15 at the wharf of the Pointe-à-Pitre cruise port. You will leave the capital by crossing the Pont de la Rivière Salée and will go to the left of the butterfly to go up to Sainte-Rose.
You will take a little break at the fishing harbor in Ste-Rose, where you will meet the merry and kind people of Basse Terre. You will then go along the west coast of North Basse Terre towards Deshaies and will go through the Grande Anse beach, one of the most beautiful beaches on the island, with a wonderfully-preserved bay.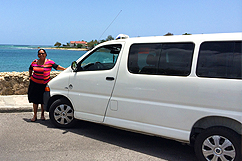 You will then go to the botanical garden, formerly owned by Coluche, to admire the lorikeets, greater flamingoes, squirrel monkey, and other wonders in the area. You will be surprised by the balance and grace of these locations in a tree-lined and carefully maintained property. Please note that you must pay an entry fee of 15.5€ per adult.
Your guide will then take the Route de la Traversée to reach your destination safely. It is an extraordinary road with its lush vegetation and freshness which contrasts with the warmth of the seaside.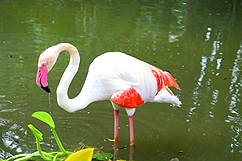 You will take advantage of this and go bathe in one of the loveliest waterfalls on the island: the cascade aux écrevisses. What better way to finish your getaway than with a session of thalassotherapy in open skies! You will come out fresh and reinvigorated for the rest of your day.
Return at 13:00 to your boat with your head full of memories, radiant skin, and the smile of a completely satisfied visitor.
Included
---
Guided tour
Vehicle and petrol
What to bring
---
Sun protection
Camera
Shades
Hat / Cap
Swimsuit and towel
Additional information
---
Trips every day of the week on reservation
Open to everyone
Cash is the only accepted payment method for this activity.
Entry fee for the botanical garden not included
You can replace the botanical garden activity with a visit of the Guadeloupe Aquarium in Gosier, where beautiful sharks await (11.5€/adult entry fee).
Map and Schedule
---
Departure: 8:15 from the cruise terminal
Return: 13:00
Pick-up at the cruise terminal at 8:15
Tour of the Sainte-Rose fishing harbor
Stop at the lovely plage de Grande Anse in Deshaiess
Tour of the Botanical Garden*, formerly owned by Coluche
Route de La Traversée
Break to bathe in the magnificent Cascade aux Écrevisses
Return to the starting point at 13:00
* Additional fees depending on the activity: Botanical garden entry fee 15.5€/person; Aquarium 11.5€/person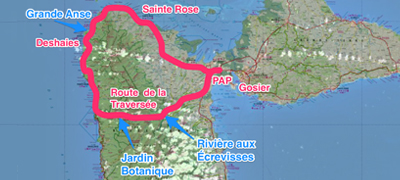 Schedule
Monday

8:15 - 13:00

Tuesday

8:15 - 13:00

Wednesday

8:15 - 13:00

Thursday

8:15 - 13:00

Friday

8:15 - 13:00

Saturday

8:15 - 13:00

Sunday

8:15 - 13:00
Booking
---