Basse Terre, its lush forest, and its fresh rivers are waiting for a day of vegetal immersion. Go and visit a zoo, a floral park, or jump from branch to branch in a jungle path. Eat local and enjoy your native guide's good spirits on this island which is typical of the Caribbean reception. Times arranged specially for cruise passengers.
Key points
---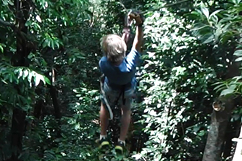 Native guide from the island
Reception and pick-up
Safety
Happiness and good spirits
Professionalism
Relaxed atmosphere
English-speaking guide
Rates
Activity details
---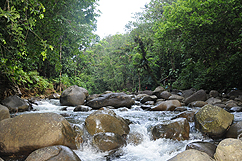 Your circuit is centered around north Basse Terre. You will go on a loop which will take you back to your starting point (cruise terminal, Gosier, Sainte-Anne, or Saint-François) through the Route de la Traversée. This activity is recommended for cruise passengers in particular because it limits the number of kilometers traveled, but this activity is also open to tourists in the communes of Gosier, Sainte-Anne, and Saint-François.
All you have to do is choose between visiting one of the 2 most beautiful parks in Guadeloupe (botanical garden or parc des Mamelles) and going tree climbing in the tropical forest. The well-balanced circuit will take you to get a glimpse of the most beautiful beaches in North Basse Terre (Plage de Cluny and Grande Anse) before dropping you off at the entrance of the park that you have chosen.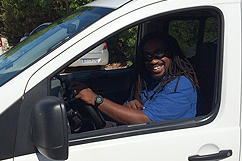 Botanical Garden : This floral and Jardin Botanique, this 5-hectare floral and wildlife park, formerly owned by Coluche, welcomes more than 120,000 visitors per year. It took 40 employees and 14 months of work to create one of the richest botanical gardens in the Caribbean 20 years ago. It presents an impressive range of tropical flowers and plants. More than 1,000 species are in this park, including bougainvilleas, hibiscus, torch ginger, but there is also a wide variety of trees, such as kapok trees, baobab trees, sausage trees, breadfruit trees, not to mention the only talipot palm in Guadeloupe. Children will enjoy the aviary in which they can feed these wonderful little parrots known as lorikeets.
Parc des Mamelles : This park, also known as the Guadeloupe ZOO, allows you to observe protected species of birds, land and sea mammals, reptiles, and fish at the heart of the tropical forest and even from perched nacelles on an aerial path between the treetops. You will watch a myriad of animals and plants in this exceptional environment. Please note that this park is part of a new generation of zoos committed to the protection and preservation of the wildlife. As a result, it earned the EAZA Quality label, which only 15% of European zoos have.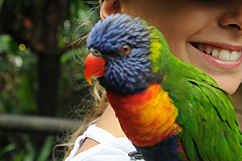 Tree climbing : 5 different tracks for all levels, starting from the age of 3. After an introduction and a small approach, you will be to soar on the kilometer of zip-lines that make the full track. You need to measure at least 1m 20 (age 8) to fully enjoy this activity. This activity is not suitable for pregnant women, people with heart problems, people prone to vertigo, or people who weigh more than 100 kg (220 lbs).
After a meal (you can bring your own meal or sandwich) at the Mamelles restaurant (not included), you will continue on the route de la traversée to get to the cascade aux écrevisses. You will be to bathe in the waterfall and in the river that borders the entrance to the waterfall. There is nothing like ending a day with a dip in a river. You will come out perfectly relaxed and ready to get back on the road to your boat or
In summary, it is a stacked, stress-free, in the company of your bilingual guide, Ruddy, who is wise and good-spirited. He will know how to enhance your experience with explanations and stories about his island, which he knows so well. He will also offer you some fruit that he makes sure to bring to each of his tours.
Included
---
Guided tour
Vehicle and petrol
Cooler with water, juice, and fresh fruit
What to bring
---
Sun protection
Camera
Shades
Hat / Cap
Swimsuit and towel
Additional information
---
Trips every day of the week on reservation
Open to everyone -

At least 4 people

Accepted payment methods: cash, credit card
Entry fees: botanical garden (15€ adult / 9€ child), parc des Mamelles (15€ adult / 9€ child), tree climbing (20€ adult / 16€ child). Meal (15€) not included.
It is also possible to go the Rum Museum in Sainte-Rose (you'll have less time for the other activities) – Reimonenq rum from the Belle vue distillery – Entry fee: adult 6€ child 4€ (open from Monday to Saturday) – Free tour and tasting at the distillery
Map and Schedule
---
Departure: 7:30 from St François, 7:45 from Ste Anne, or 8:15 from the cruise terminal
Return: 16:00 cruise terminal, 16:45 Ste-Anne, 17:00 St-François
Pick-up from the cruise terminal at 8:15
Loop in Nord Basse Terre going through the Sainte Rose harbor
Stop at the plage de Cluny and Grande Anse
Botanical garden*, Parc des mamelles* or tree climbing*
Meal*
Dip in the Cascade aux écrevisses
Return to your starting point between 16:00 and 17:00
* Entry fees and meal prices not included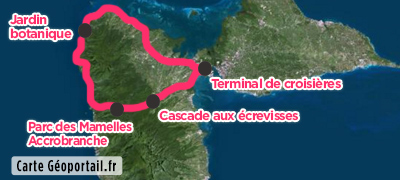 Schedule
Monday

8:15 - 16:00

Tuesday

8:15 - 16:00

Wednesday

8:15 - 16:00

Thursday

8:15 - 16:00

Friday

8:15 - 16:00

Saturday

8:15 - 16:00

Sunday

8:15 - 16:00
Booking
---
Image Gallery