On Mondays, Saturdays, and Sunday, discover Basse Terre and share the passion that your guide has for his island. On the agenda: tour of the points of interest (Grands Fonds, fishing harbor, beach, botanical garden…) and a boat trip in the Cousteau Reserve. You will end your stacked day with an invigorating dip in a river in the tropical forest (cascade aux écrevisses)!
Basse Terre is what Guadeloupe is all about! Far from mass tourism, it shines with its deep green landscapes, lush vegetation, and wonderful sea floors. Your charming, local hostess, who is generous and smiling, will take pleasure in showing you the interior of the island. You will definitely meet the Guadeloupian population. She will take you to meet the Guadeloupian population while visiting the most remarkable locations in the north and west of Basse Terre, sharing stories with a smile on her face.
Key points
---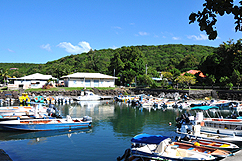 Local guide
Reception and pick-up
Safety
Smiles and good spirits guaranteed
Friendliness and professionalism
Generosity and availability
Relaxed atmosphere
Comfort
Rates
Activity details
---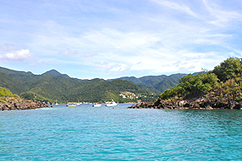 Your thoughtful and helpful hostess for the day will answer all of your questions with the generosity and good spirits that characterize her. The rendezvous is at 7:30 at your holiday resort. Departures are from Ste-Anne, St-François, Gosier, or Pointe à Pitre..
For departures from Saint-François and Sainte-Anne, the circuit starts with a breathtaking crossing of the Grand Fonds, a succession of little mountains each as impressive as the next.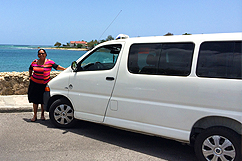 Once you arrive at Pointe à Pitre, you will cross the rivière salée and will go on the left wing of the butterfly to go up to Sainte-Rose. When you get there, you will stop at the fishing harbor, making your first foray into Basse Terre. Before going to Deshaies, you will overlook one of the most beautiful beaches in Guadeloupe: Easy on the eyes! Get your cameras out! Breathtaking view of the splendid Baie de Grande Anse.
There are renowned luxury hotels nearby in the vegetation, and for good reason! You will visit the Botanical Garden, formerly owned by Coluche, just nearby. Easy on the eyes here, as well! Greater flamingoes and parrots and many other wonders (15.50€/person entry fee).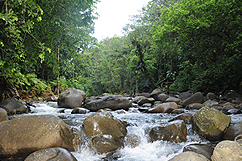 After eating your sandwich or full meal at a restaurant in Pointe-Noire (20€/person – wine included), you will go to Bouillante to get on the glass-bottomed boat to discover the Cousteau Reserve and bathe there (19€/person for a 1h30 visit). Like the other paying activities, the glass-bottomed boat tour is optional, you can also choose to go snorkeling (fins, mask, and snorkel provided) in the company of the turtles that stay near the beach.
On the la route de la traversée, you will make your last stop at the wonderful Cascade aux Écrevisses, where you can refresh and "desalinate" yourselves by bathing in emerald green water. You will go back to your starting point at 18:00.
You will be curious when you arrive in the morning, but you will be in love with Basse Terre, its lush forest, its beaches, and its inhabitants when you leave in the evening.
Included
---
Guided tour
Rum tasting
Vehicle and petrol
What to bring
---
Sun protection
Camera
Shades
Hat / Cap
Swimsuit and towel
Additional information
---
Trips on Mondays, Saturdays, and Sundays on reservation
Cash is the only accepted payment method for this activity
Meal, botanical garden entry fee, and glass-bottomed boat price not included
You can visit the "Aquarium de la Guadeloupe" in Gosier, where beautiful sharks await (11.5€/adult entry fee) instead of going on the glass-bottomed boat or going to the Botanical Garden.
Map and Schedule
---
Departure: 7:30 (St-François) / 7:45 (Ste Anne) / 8:15 (Gosier or PAP)
Return: 17:00 (Gosier) / 17:45 (Ste Anne) / 18:00 (St-François)
Pick-up from your holiday resort between 7:30 and 8:15
Road to the Grands Fonds
Tour of the Sainte-Rose fishing harbor
Stop at the lovely plage de Grande Anse in Deshaies
Tour of the Botanical Garden, formerly owned by Coluche*
Sandwich or restaurant in Pointe-Noire*
Tour of the Cousteau Reserve on a glass-bottomed boat*
Route de La Traversée
Break to bathe in the wonderful Cascade aux Écrevisses
Stop at the Aquarium de Gosier* if you haven't done any of the planned activities and there is still some time left
Return to the starting point between 15:15 and 18:00 (Saint-François)
* Additional fees depending on the activities: Botanical garden: 15.5€/person entry fee; Restaurant: 20€/person (drinks and wine included); Glass-bottomed boat: 19€/person; Aquarium: 11.50€/person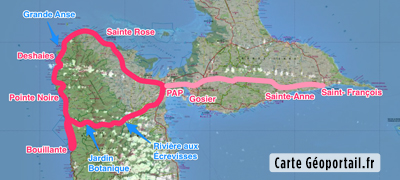 Schedules
Monday

7:30 - 18:00

Saturday

7:30 - 18:00

Sunday

7:30 - 18:00
Booking
---