The wonderful communes of Saint-François and le Moule and their riches allow for several Segway trips. A unique way to discover some of the most beautiful landscapes in Grande Terre. Be transported by our machines which don't require any particular ability to drive. In just 3 words, nothing but happiness!
Key points
---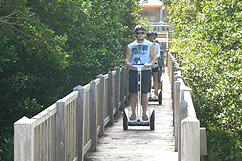 Modern and safe
Unique thrills
Ecological
No particular balance needed
Handling
Activity details
---
Saint-François and Le Moule, tropical landscapes with beautiful colors. These 2 communes allow for 3 trips without burning any energy. Low-speed pleasure.

1st circuit – All-inclusive day at Pointe des châteaux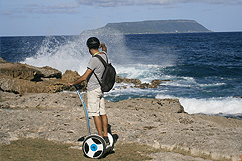 Discover la Pointe des Châteaux, a big tourist attraction in Guadeloupe, and its surroundings! Spectacular views, unknown places, and heavenly beaches will be sure to impress you all day long. You will stop at the crafts village and at the "Kréol West Indies" museum to learn more about the local culture. Are you feeling peckish after that pleasant adventure? Everything is planned. A typical meal will awaken your taste buds! You will then end your day in style with a swim in a sea bordered by its long, white-sand beach, and its sublime exotic views.
Price for the day with meal : 70€/person
2nd circuit: 2h30 of discovering la Pointe des Châteaux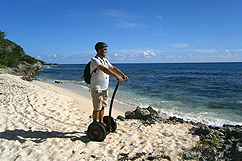 Discover one of the most remarkable locations in Guadeloupe, La Pointe des Châteaux, and its surroundings, in 2 hours and 30 minutes. Your trip will start at the "Kréol West Indies" museum for a very pleasant journey. Prepare your backpacks and don't forget your camera, and immortalize the spectacular views. On the way back, you will stop at the Maison de la Noix de Coco and the Saint-François crafts village. You will be offered a visit of the "Kréol West Indies" museum. You will be surprised to dive into the memories of the past of the pirates of the Caribbean, among other things.
Package price : 35€/person (at least 2 people)
3rd circuit: Half-day (3h30) – Countryside and Porte d'Enfer of le Moule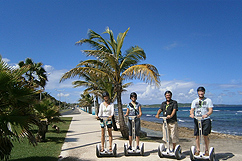 You will set off from the Saint-François Marina for an unforgettable, 3h30-long trip away from the beaten tracks. You will have the pleasure of observing the Guadeloupean countryside, as well as the luxurious buildings in upper Saint-François, all in almost total silence. You will finish your trip with a typically local touch in the sugar cane fields and banana plantations! This easy and pleasant trip is waiting for you.
Package price : 45€/person (at least 2 people)
Included
---
GYRO-PERMIS organized by your instructors (15-minute mini-circuit with different handling challenges and an introduction to driving, as well as information about safety). You must pass.
Safety helmets
Segways
What to bring
---
T-shirt mandatory
Sunscreen
Shades
Closed-toe shoes
And your good spirits!
Additional information
---
You must be at least : 14 years old (you must be with your parents)
You must be able to go up stairs without any assistance
You must have obtained the GYRO-PERMIS (included in all of our packages)
Accepted payment methods: cash, check, or credit card (no holiday vouchers)
At least 2 people for the 2h30 and 3h30 tours.
Map and Schedule
---
Meet up at 8:30 and 14:30 at the Saint-François marina.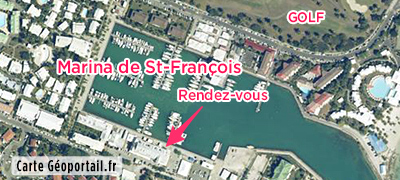 Schedule
Monday

8:30 - 14:30

Tuesday

8:30 - 14:30

Wednesday

8:30 - 14:30

Thursday

8:30 - 14:30

Friday

8:30 - 14:30

Saturday

8:30 - 14:30

Sunay

8:30 - 14:30
Booking
---