You will discover two of the most beautiful waterfalls in Guadeloupe at the heart of the tropical forest during this hike, which is located in the National Park and on the Grand Carbet river. You will be able to appreciate all of the beauty in this location which your supervisor, Aurélie, knows perfectly, all while enjoying the magnificent and staggering landscapes.
Key points
---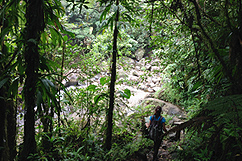 Professional supervision (state diploma, medium mountain supervisor)
Passionate explanations of the humid tropical forest's secrets, its wildlife, and its plants
Magnificent views of the coast and the ocean
Impressive waterfalls: the 2nd is 110 meters high and the 1stis 115 meters high
Activity details
---
Set off from the National Park's reception. The hike starts with a paved path followed by several wooden steps with some noticeable roots. The hike is quite sporty with a 480-meter climb and a crossing through a ravine, the total distance is just under 5 km.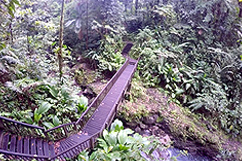 After going near the 2nd waterfall, the trip up to the 1st waterfall begins. You will be able to discover the tropical forest and its inhabitants during this trip. You can also hear and see several species of birds and take advantage of this preserved forest's tranquility and beauty.
When you get to the 1st waterfall, you will stop for a spot of lunch and then go back to the National Park's reception.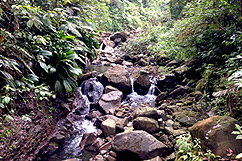 In summary, it is a great hike for the well-being of the body and mind for fit people. You will be happy that you got to discover a wonderfully wild space which is protected by the agents of the National Park. It is a bit like if you were taken back to the time of Christopher Columbus' companions. Simply magical!
Summary of the half-day
---
Set off at 8:00
Stop at a place with a view of the 2nd waterfall
Stops to explain the humid tropical forest
Stops to explain the wildlife
Arrival at the 1st waterfall
Lunch break
Return to finish the hike at around 13:30

Included
---
Snack provided during the hike
What to bring
---
Hiking shoes or good sneakers (trail)
Backpack with: cap, water (1.5 L per person), sandwich, raincoat or rain cape, sunscreen, shades, a little plastic bag to protect phones and cameras in case of rain.
For people who have special treatment (ex: asthma, diabetes, allergies, etc.), bring your treatment with you.
Additional information
---
Accepted payment methods: check or cash.
Bring 2€/person for the National Park's entry fee
Children aged 7 or over can take part in this activity..
Map and Schedule
---
The hike begins at 8:00 – You will come back at around 13:30, which means the hike lasts 4 to 5 hours (including the many stops for explanations). Set off from the National Park's reception, about 10 kilometers away from Capesterre-Belle-Eau going to the Carbet Falls.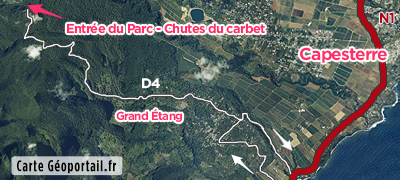 Schedule
Monday

8:00 - 13:30

Tuesday

8:00 - 13:30

Wednesday

8:00 - 13:30

Thursday

8:00 - 13:30

Friday

8:00 - 13:30

Saturday

8:00 - 13:30

Sunday

8:00 - 13:30
booking
---
Image Gallery