Trip for families and/or sporty people which starts with a small safari in a 4x4 towards the la Soufrière volcano followed by a hike up the volcano by foot. A team of experienced guides will be with you for 4 to 6 hours of volcanological discovery. At the end of a 500-meter climb, you will reach the active craters which spit out their sulfur smoke and a unique view of the surrounding islands. A fun, scientific, and unconventional experience. All-inclusive day.

Key points
---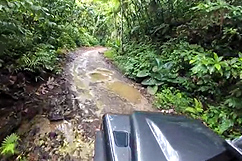 25 years of experience
Professional naturalist guides
Reception and complete care
For sporty people
Safety
Recommended by la-soufriere.com
Activity details
---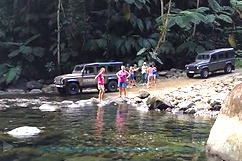 It is nice to see La Soufrière from afar, but it's better to climb it. With a sporty crowd, and a naturalist guide, go and conquer the "old lady" (100 to 200 000 years ago) in its resting state. The guides will come and pick you up from 6:30 from your holiday resort in Saint-François, Sainte-Anne, Gosier, or Baie-Mahault.
You will be setting off to one of the 9 active volcanoes in the Caribbean in the mythical Land Rover Defender. The summit of la Soufrière, called "the Discovery," is 1,467 meters high and is the highest summit in Guadeloupe and the Lesser Antilles.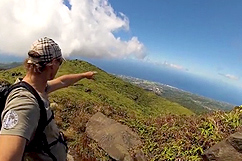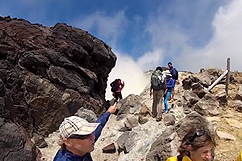 It is now time for a 2-hour climb. Your guides are there to answer all of your questions, so don't hesitate! Volcanology, volcanic geology, the wildlife, the plants, and the history of the locations will be shown to you.
At the summit, you will get a wonderful view in good weather: Les Saintes, Dominica, Martinique, Marie-Galante… all of the surrounding islands are there for you.
When you approach the crater, the spectacle is impressive, as are the noise and the smell! The volcano, which is still active, spits a white smokes which leaves saffron yellow sulfur residue with force and without stopping.
Once you have taken advantage of the locations, you will go back down calmly, at your own pace, and you will enjoy the vegetation. Be careful of slips in wet weather.
The last thing you will do at the bottom of the volcano is have a dip in the pool of warm, 29° sulfur water as a reward for all of your efforts (les bains jaunes). It is the best way to relax your muscles and appreciate this unconventional experience.
You will have a meal in a banana tree restaurant, which you will get to by going through some wonderful country tracks, between 16:30 and 18:00 depending on the holiday resort.
Included
---
Land Rover Defender
Snack and water on the hike up the volcano
Meal at the restaurant
Professional guides
Petrol
Rain capes
What to bring
---
Hiking shoes or non-slippery sneakers
Warm clothes (humidity at higher altitude)
Spare clothes
Backpack
Swimsuit + towel
Sunscreen
Camera
Additional information
---
At least

4 people

6- to 8-seat Land Rover
Recommended minimum age is 12, even if the child is motivated or is used to walking
Accepted payment methods: credit card, check, cash (no holiday vouchers).
Map and Schedule
---
Open 7 days a week
The first pick-up spot is at Saint-François from 6:30 at your holiday resort or on the Casino supermarket car park in Saint-François, then 6:50 at Sainte-Anne, 7:30 at Gosier, Bas Du Fort, 7:45 at Baie-Mahault (Destreland – Mall service station). Return at 16:30.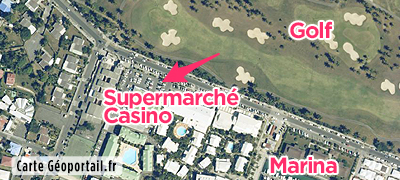 Schedule
Monday

6:30 - 16:30

Tuesday

6:30 - 16:30

Wednesday

6:30 - 16:30

Thursday

6:30 - 16:30

Friday

6:30 - 16:30

Saturday

6:30 - 16:30

Sunday

6:30 - 16:30
Booking
---