New in Guadeloupe – Exceptional experience with an experience and passionate Gyroplane pilot. Go on a magical flight above Guadeloupe in the gyrocopter's open 360° cabin, you will see some breathtaking aerial views. Guided tour – A unique and very affordable activity. Don't miss out!
Don't miss this amazing experience, available every day of the week. Take off and admire Guadeloupe from a gyroplane. Your pilot will be waiting for you for a trip during which you will be able to admire the island of beautiful waters (camera required). You will discover the surroundings of Saint-François, La Désirade, Petite Terre, all of Grande Terre or Basse Terre and its volcano, La Soufrière, with your experienced pilot. A unique and unforgettable experience!
Key points
---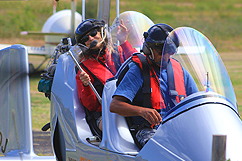 Local guide
Certified and very experienced pilot
Safety and comfort
Reassurance
Slow speed
Open cabin
Panoramic view (360°)
Excellent maneuverability
Very low sensitivity to turbulence
It is possible to take photos and/or videos
Activity that is open to all, with an age limit
Unique experience
Rates
Activity details
---
The gyrocopter is a machine that is half ULM, half helicopter, and is very safe and stable. You will admire the landscapes in open air (open cabin) with a 360° view. It is propelled by a 100-horsepower ROTAX engine and is equipped with a radio, transponder, GPS, emergency beacon, and life jackets (in case of overwater flights). It is stabilized by a rotor like the ones used to stabilize helicopters, except this one is driven by the relative wind. The gyrocopter is commonly used by institutions for air surveillance. Take off between 20 and 100 meters, landing between 0 and 10 meters.
Your certified "multi-axis" microlight (wheels and seaplane) and gyroplane pilot is thoughtful and will passionately describe the landscapes you will fly over.
Discovery maiden flight - 20 minutes (70€)
From Saint-François, go on a short but emotion-filled and very affordable flight for the extraordinary thrills it gives the passenger. You will discover flying in a gyroplane and the landscapes surrounding Saint-François at the same time, in an almost fun way. It is a perfect, short maiden flight!
Pointe des Châteaux maiden flight - 30 minutes (90€)
From Saint-François, you will take the time to enjoy the wonderful views of the lagoon and la Pointe des châteaux on the east of the island. Your pilot is your guide! An ideal flight to enjoy the gyroplane and its extraordinary views. A magical experience on the most popular flight!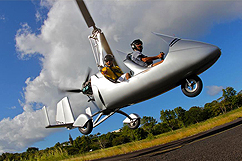 The triangle: Pointe des Châteaux, La Désirade, Petite-Terre - 50 minutes (140€)
From the Saint-François aerodrome or the La Désirade runway, you will fly for 50 minutes and discovery many things, including La Pointe des Châteaux, the La Désirade plateau, and the islands of Petite-Terre. A daydream - Wonderful!
Complete tour of Grande-Terre - 1 hour and 30 minutes (260 €)
From Saint-François, you will go along the south coast of Grande-Terre and admire its beaches and lagoons. You will fly over îlet Gosier, the Pointe-à-Pitre Marina, and the Rivière Salée. You will then head north and fly over Port-Louis, the Anse-Bertrand cliffs, and la Pointe de la Vigie. You will then go back to the base, flying over the commune of Le Moule and la Pointe des Châteaux. Your pilot will passionately describe all of the landscapes you will be flying over (Grande-Terre will have no more secrets left to hide).
Complete tour of Basse-Terre - 1 hour and 30 minutes (300 €)
From Saint-François or Baillif, go all the way around Basse-Terre by flying over Vieux-Habitant, Bouillante, les îlets Pigeon, Pointe-Noire, Deshaies, les îlets Kahouanne, and Tête à l'Anglais, as well as the plages de Cluny. You will also fly over the commune of Sainte-Rose, then head South/South-east to Capesterre, Trois Rivières, Vieux-Fort and then go back to Saint-François or Baillif through the col de Gourbeyre. You will see spectacular and sensational views... A simply exceptional flight!
What to bring
---
Camera
Shades
Sunscreen
Possibility of a slow flight
Additional information
---
Passenger weight limit: 110 kg
Plan this trip for the beginning of your stay so you can reschedule it in case of bad weather.
Minimum age for children: 7 years old
Room for just 1 passenger at a time
Minors must have permission from their parents.
The flights depend on the weather. If the weather will result in the planned circuit being shortened, the real price will be calculated on the base of a 2.50€/minute rate.
Checks and cash only (no credit cards or holiday vouchers)
Map and Schedule
---
Takeoff times are in requested timeslots between 9:00 and 12:00, and between 15:00 and 18:00 (weekends) from the Saint-François aerodrome, La Désirade ("The Triangle" tour: Pointe des Châteaux – La Désirade – Petite-Terre), or Baillif (Complete tour of Basse Terre).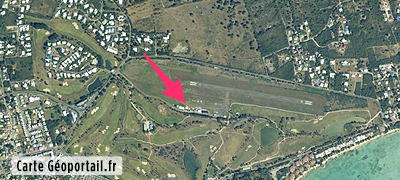 Schedules
Monday

9:00-12:00 / 15:00-18:00

Tuesday

9:00-12:00 / 15:00-18:00

Wednesday

9:00-12:00 / 15:00-18:00

Thursday

9:00-12:00 / 15:00-18:00

Friday

9:00-12:00 / 15:00-18:00

Saturday

9:00-12:00 / 15:00-18:00

Sunday

9:00-12:00 / 15:00-18:00
Booking
---