This diving baptism is done at a friendly diving club which offers trips in small groups to the most beautiful diving spots in Guadeloupe, including the Cousteau Reserve. You can safely take part in this activity from the age of 8, even if you don't know how to swim.
Key points
---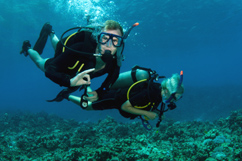 Friendliness (aperitif after the dive and receiving the certificates)
Jazz, who has been a Guadeloupean diving instructor for over 20 years (state diploma)
Activity details
---
When you arrive at the club, you will register and then an instructor will give you the diving equipment (wetsuit, fins, mask, lead weights…)
Explanation on how the dive takes place
Set off to the diving spot (it takes about 15 minutes to get to the spot, which is usually the Cousteau reserve)
When you arrive at the location, your instructor will check the equipment
Your instructor will then be waiting for you in the water with your oxygen tank
You get in the water and your instructor puts your vest and oxygen tank which you float with on.
The pressure reducer will be tested (mouthpiece which allows you to breathe the air in your oxygen tank)
When you are ready, the instructor deflates your vest so you can go down (you can come back up at any time with a few fin strokes – 3 seconds maximum)
The dive starts with your instructor, who has one of his hands on you at all times for twenty minutes (you will never go over 6 meters underwater).
You will quickly adjust to the underwater environment. Even though your first worry will be to breathe with the pressure reducer, the panic will quickly fade, and you will then be able to fully enjoy your new environment.
The diving baptism is truly risk free, your instructor will be there for you at all times to help you enjoy these magical moments and will notice any sign of panic. So don't be afraid and know that it only takes 3 seconds to come back up to the surface.
To finish your activity, you will be handed a diploma when you get back to the diving center. This diploma will confirm that you have successfully passed the diving test and that you are now ready to go on a course to become a qualified diver.
Included
---
Fins, mask, and snorkel
Wetsuit, oxygen tank, pressure reducer, vest, and lead weights
Additional information
---
Activity times: trips at 9:30 and 14:30 every day except Sunday, meet up 30 minutes before the 2-hour-long trip.
This activity is open to anyone aged 8 or over (even if you can't swim)
Map and Schedule
---
Our diving club is located at Plage Caraibe in Pointe Noire (south of Pointe Noire, just before Bouillante), the club is opposite the parking.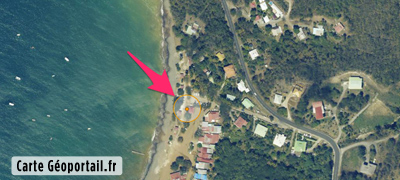 Schedule
Monday

9:00 to 16:30

Tuesday

9:00 to 16:30

Wednesday

9:00 to 16:30

Thursday

9:00 to 16:30

Friday

9:00 to 16:30

Saturday

9:00 to 16:30
Booking
---