The "Séverin" (2X225 horsepower) will take you for an all-inclusive day to Petite Terre safely and swiftly. Free tour of the island, exploration of the lagoon: damselfish, parrotfish, trevallies, little harmless lemon sharks, turtles, rays… Snorkeling equipment (masks and snorkels) are not provided. A sophisticated meal will be served after a Guadeloupian aperitif. A perfect day of happiness.
Key points
---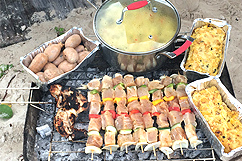 Quality meal served on a nice tablecloth
Choice of menu: chicken or fish
Welcome and friendliness of the organizing team
Security, comfort and quickness of the crossing
Intimate atmosphere in small groups (12 passengers)
Thoughtful skipper
Activity details
---
The beautiful bronze boat – old rum color – in the Saint-François marina will take you to the very popular island of Petite Terre in 45 minutes every day at 7:15, except Thursdays and Saturdays. You will take full advantage of this excursion in the heart of the wildlife and plant-rich Nature Reserve in small groups of 12 passengers. A small, turquoise lagoon, crowned by its vegetation made of coconut trees and white sand, a real paradise on earth, awaits you under the bright sunlight of the West Indies. A natural wonder that is admired and cherished by everyone here, locals and tourists. Its reputation doesn't need to be made anymore!

Upon arrival on the island, you are free to visit it by following the paths prepared especially by the ONF. Its lighthouse has a little museum downstairs that explains everything about the local wildlife and plants. Guadeloupe's interesting community of 10,000 endemic iguanas and the always curious hermit crabs await you, or not… You will then discover Petite Terre's small cliffs and, of course, you will be able to go and explore the lagoon by snorkeling (mask and tube not provided) and approaching the coral reef which has loads of multicolored fish. The spectacle is so magnificent that it will be a journey within a journey: parrotfish, damselfish, trevallies, turtles, rays, and little harmless lemon sharks…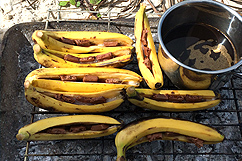 In the meantime, your skipper will have prepared your barbecued meal. It is sophisticated and will start with the aperitif de rigueur in Guadeloupe: ti-punch, planteur, accras, West Indian black pudding, pressed fruit juice, followed by the meal consisting of a choice of fish or grilled chicken skewers with a gratin. Your dessert: flambéed "péyi" chocolate bananas. Drinks served are water and rosé wine.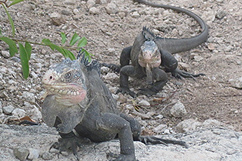 You'll get free time in the afternoon on Robinson Crusoé's island, just like in the morning: games, siesta, explorations… At around 16:15, perfectly happy and still dazzled by so many wonders, you will embark on a calm return trip tinged with regret, with a planned arrival at Saint-François at 17:00. You will come back, it is certain!
Summary of the day
Meet up at 7:00
Arrival at Petite Terre at around 8:00
Discovery of the location and swim
10:30 guided tour of the island
11:30 aperitif
12:30 meal
14:00 Swim, farniente
16:30 go back, going along the coast of Terre de Haut to see the turtles better
17:00 / 17:15 arrival at Saint-François
Included
---
Crossing to Petite Terre
Aperitif and fish or chicken BBQ
Free tour of Petite Terre
What to bring
---
Snorkeling equipment (mask and snorkel)

Swimsuit, beach towel
Raincoat
Spare clothes
Sunscreen (preferably organic)
Camera
Hat, cap
Additional information
---
A minimum of 8 people is needed for any departure to Petite Terre. Book early in order for us to be able to accommodate you on the dates that you pick.
Note that the crossings can be sporty with sea sprays depending on the sea state.
span style="color: #ff8b00;">This activity is inappropriate for pregnant women and people with health problems, pick the catamaran excursion instead in these cases. ICIGO also discourages children under the age of 8 to do this between December and April unless the conditions are favorable..
Children are allowed if they are 6 or older.
Departure if the swell is 2m or under
Final payment by credit card or cash
Map and Schedule
---
Meet up at 7:00 at the Saint-François marina. Go to the wooden shack near the "café Wango" restaurant with "EXCURSIONS" written on the pediment. A receptionist will collect the payment and proceed to the boarding of the 12 passengers.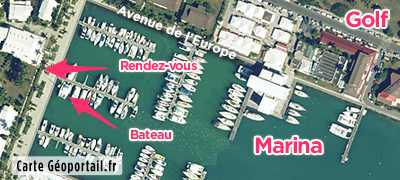 Schedule
Monday 7:00 - 17:00
Thuesday 7:00 - 17:00
Wednesday 7:00 - 17:00
Friday 7:00 - 17:00
Sunday 7:00 - 17:00
Booking
---