Your skipper, Nico, welcomes you on the Chan's (One Shot), a 2 X 150-horsepower motorboat, on an all-inclusive VIP trip. Small group of up to 9 passengers, happy atmosphere, guided tour, quality meal. Everything is here. Choosing the Chan's is lucky for you! It departs from the St-François marina every Wednesday, Thursday, Friday and Saturday. Petite Terre's heavenly setting awaits you for safe snorkeling in the turquoise lagoon.
Key points
---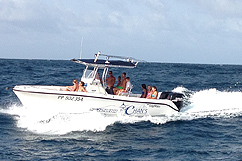 Quality catered meal served on a nice tablecloth
Happy and relaxed atmosphere
Welcome and friendliness of the supervising team
Quality of the boat
Intimate atmosphere in a small group: 9 passengers maximum
Skipper who is passionate about Petite Terre and thoughtful of his customers
Skipper's total availability
Happiness guaranteed with Nico!
Activity details
---
Meet up at the Saint-François marina at 7:15 to set off at 7:30 at the latest. It will only take 40 to 45 minutes to get to the islets of Petite Terre. You will begin to understand how passionate your skipper, Nico, is about the location from the moment you arrive. He will explain the Nature Reserve and its riches to you. Also, Nico will take great pleasure in guiding you during the little walk, taking you to the lighthouse "at the end of the world," located just a stone's throw away from the beach, through the path made by the ONF, which protects these locations. You will discover the endemic iguanas with much interest, they are the only inhabitants of the island along with the hermit crabs. Signs will present the Fauna and Flora of the island. You will also find a mini-museum on the ground floor of the lighthouse, which summarizes the history of the island. After that, the lagoon will offer itself to you, and it will be hard to resist! You will be able to see turtles, rays, harmless little lemon sharks, a barracuda, a well-hidden nurse shark, as well as many other tropical fish…

At the end of the morning, you will be invited to have a local aperitif consisting of accras, fish ceviche, fresh fruit juice or ti-punch or planteur depending on your tastes, and even chunks of fresh pineapple for a well-deserved refreshment! You will get to taste a delicious catered meal on a table that Nico will have set for you in the shade of Petite Terre's coconut trees. You will taste grilled fish or chicken skewers with a side dish of salad and rice in peace and in good spirits. You will have the choice of refreshing water or rosé wine to quench your thirst and to celebrate this exquisite day of vacation. To finish off this delicious meal, you will be served flambéed chocolate bananas. Coffee lovers will not hesitate to ask Nico for some.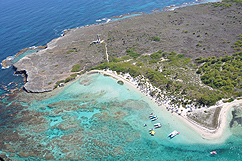 In the afternoon, you will surely hesitate between having a siesta and diving in the lagoon! It's up to you, both are good! When the sun reduces "on ti brin" (a little bit), it will be time to get ready to return to Saint-François. You will get one last look at La Désirade and La Pointe des Châteaux in the east end, and Basse Terre and Les Saintes in the west end under the setting sun. Return planned for around 17:00.
Summary of the day
Meet up at precisely 7:15 to board at 7:30
Arrival at Petite Terre at around 8:15
Guided tour of the island, snorkeling or farniente
Aperitif at the end of the morning, followed by a catered meal
Afternoon: swim, farniente, etc...
Return trip going along the coast of Terre de Haut to see the turtles or dolphins better
17:00 arrival at Saint-François
Included
---
Crossing to Petite Terre
Local aperitif and drinks during the day
Meal with fish or grilled chicken on the beach
Fins, masks, and snorkels
Happiness and good spirits
What to bring
---
Swimsuit, beach towel
Spare clothes
Sunscreen (preferably organic)
Camera
Hat, cap
Shoes or espadrilles for the walk to the lighthouse
Additional information
---
This boat will not take any small children (under the age of 6), pregnant women, or old people, because the crossings are quite sporty. We will make exceptions in the case of a great sea state.
Petite Terre is a protected Nature Reserve. You are not allowed to take anything from the island.
Payment methods: cash, checks, holiday vouches - WARNING! No credit card payments
Map and Schedule
---
Meet up at the Saint-François marina at 7:15 to board at 7:30. Go to the terrace of the "Quai 17" restaurant.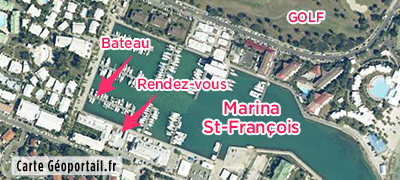 Schedule
Wednesday 7:15 - 17:00
Thursday 7:15 - 17:00
Friday 7:15 - 17:00
Saturday 7:15 - 17:00
Booking
---