Exclusive visit of Petite Terre's sea beds. Get on board Saint-François where the unique 50-seat motor catamaran with underwater panoramic view will quickly take you there (45 minutes) for a day at the Petite Terre nature reserve with meal included.
Key points
---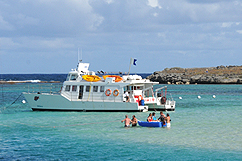 Exclusive: visit the sea beds with a panoramic view
Speed, safety, and comfort
20 years of experience of daily crossings
Professional crew
New boat that adheres to the latest standards
Kayaks provided
Relaxed and friendly atmosphere
Attractive price and group rates
Activity details
---
From 8:05 in the morning, set off on a wonderful day of delights and discoveries at Petite Terre. After just 45 minutes on the boat, you will arrive and take full advantage of this unique and heavenly location. For people who love turquoise waters, fins, masks, and snorkels are provided, as well as sea kayaks. The coral reef and its multicolored fish, rays, turtles, and harmless baby lemon sharks are all yours to behold.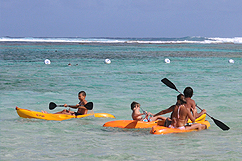 You can also visit the island with its lighthouse and museum and have fun seeing Guadeloupe's endemic iguanas. At midday, you will be offered a local aperitif consisting of ti-punch, planteur with creole sausages under a 50 m² tent. This is followed by a meal with fresh tabbouleh, barbecued chicken, potatoes baked in foil and caramelized bananas in old rum. Take advantage of unlimited rosé wine, fruit juice, water, coffee, and digestives as well.
Your afternoon, like your morning, is made of discoveries, farniente, or snorkeling in the lagoon because Petite Terre is heaven, and we do what we want as long as we respect the location's protected nature.
Board at 15:30 to take advantage of the underwater panoramic view of the lagoon, exclusive to this glass-bottom boat. The return to Saint-François is planned for 17:00.
Included
---
Free tour of the island
Fins, masks, and snorkels
Sea kayaks
Underwater panoramic view
Unlimited drinks, rosé wine, fruit juice, water, coffee, and digestives
Barbecued chicken meal on the beach
Smiles, pleasure, and relaxation
What to bring
---
Cap, hat
Sunscreen (preferably biodegradable)
Camera
Shades
Additional information
---
Special rates: Children aged 5 to 11 (42€), groups of more than 10 people (Adult 65€, Children 39€), groups of more than 20 people (Adult 62€, Children 37€).
For safety reasons, the number of children under the age of 12 must be the same as the number of adults when you book. We cannot take early bookings for families with children under the age of 5 (booking subject to limitations depending on the sea state). Exceptions can be made during periods of calm sea (swell of 1m or under) a few days before the departure and depending on availability.
This activity is inappropriate for pregnant women and people with health problems, pick l'excursion catamaran instead in these cases.
Map and Schedule
---
Schedule:
Meet up at the office at 7:45 to board at 8:05
Arrival at Petite Terre at 9:00
Free tour of the island, snorkeling, or farniente at your convenience
12h aperitif followed by the barbecue
Board at 15:30 to see the sea beds with an underwater panoramic view
Return to Saint-François at 17:00
The Awak II is located on the north side of the Saint-François marina, opposite the "Les Artistes" restaurant. The office is also located on the north side of the marina and is accessible via the Avenue de l'Europe which goes along the Golf de St-François, 200m to your right after you pass the Hyper Casino.
Important! We ask our passengers to be at our office at 7:45 to proceed to boarding.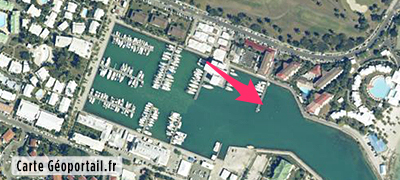 Schedule
Tuesday

7:45 - 17:00

Wednesday

7:45 - 17:00

Thursday

7:45 - 17:00

Friday

7:45 - 17:00

Sunday

7:45 - 17:00
Booking
---